You might already have been to Birkenhead's Bloom Building, without having any idea it's a thriving mental health centre, gaining national recognition for its innovative work.
It hosts gigs and comedy nights, yoga classes and film screenings, and does a mean line in quackless spring rolls. But the money you spend there – on a pint, or at a gig, goes straight back to support its work.
The former warehouse pops out of a low-rise industrial estate in the swirl of roads looping between the Queensway Tunnel and Birkenhead's dockyards. Bold geometric shapes – outside and in – steal your attention. There's lots of pink. Never be afraid of pink.
"If you can create amazing spaces, and fill them with amazing people and services that others might need – then the chance that what you're doing has the best impact is massively enhanced," says Lee Pennington, founder of the Open Door Charity, as we talk in its HQ, the technicolour hug of the Bloom Building.
"That's the principle. It's what the idea was originally. And it's what it still is now."
The beauty of Open Door's approach is its simplicity. It shares lived experience of mental health challenges, and invites everyone who comes through its doors to become a member and join in a range of activities.
It's fun. Vibrant. Social.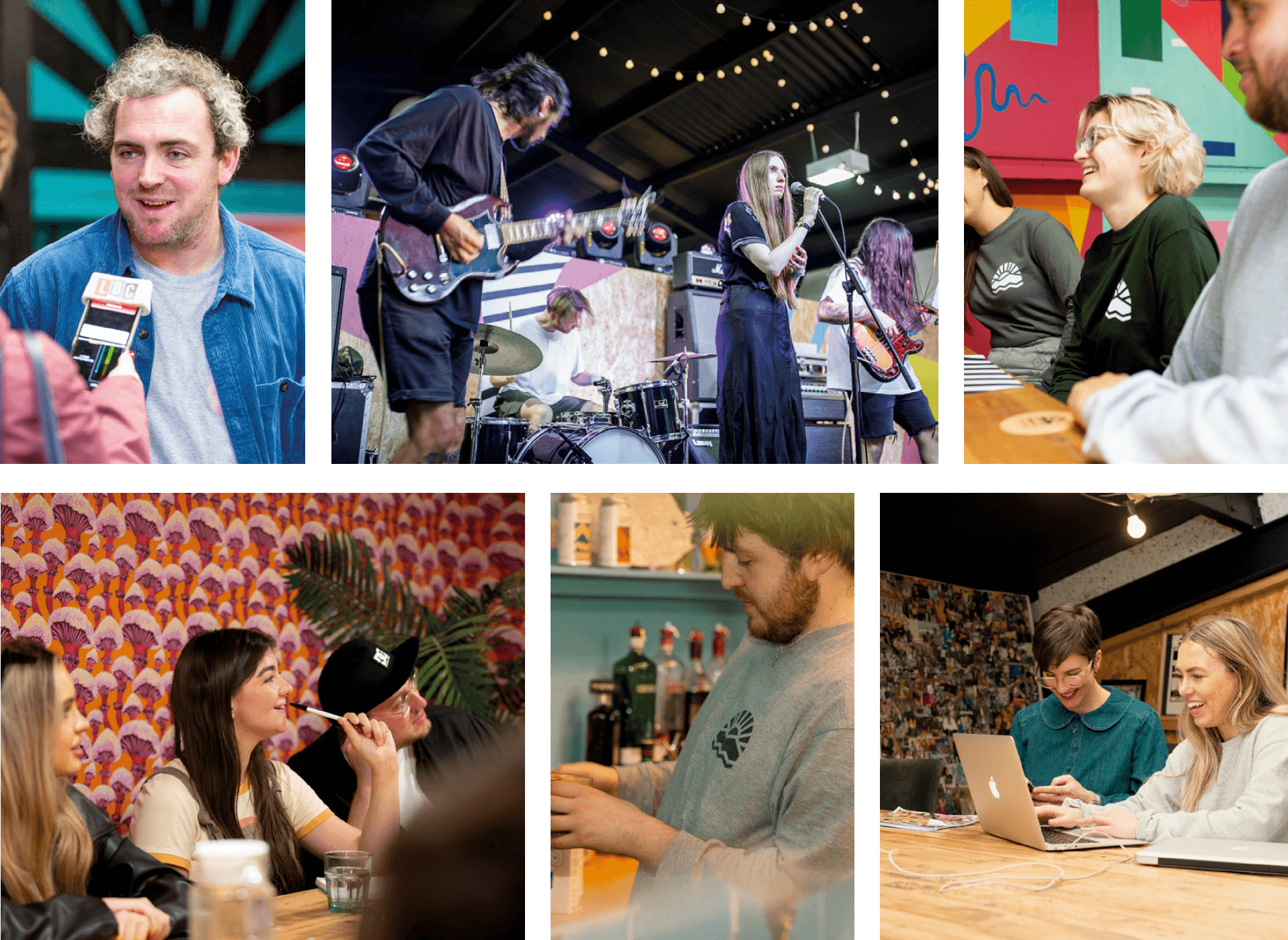 "It's when counselling feels like the highlight of your week. More often than not, it's positioned as a necessary evil," admits Lee. "If you can flip that… well, we're in our 12th year of flipping that expectation of where mental health sits."
There are free, immediate, talking therapies, available widely for young people, and also on specific programmes: Oomoo for looked-after young people; Harmoniser for people in the music industry, with music venue neighbour Future Yard; key services for the NHS. But they're talking therapies with a twist, built on shared experience and peer-to-peer support.
That support helps build negative life experience into a positive, offering training and employability and a route to a career in mental health.
A third strand – of culture, music, and art – envelops Open Door's whole approach. "It gives mental health a facelift. We think of mental health as a universal thing that we're all going to have a relationship with, rather than some illness that needs a cure," says Lee.
"Why shouldn't you make the place you go for counselling bright and colourful? Why shouldn't you donate to charity with every beer that you buy at a gig?"
Lee studied counselling at university. But, on leaving, and looking for a use for it, was "the worst person in the world at job interviews." Instead, he played in bands.
"All of a sudden, I started getting anxiety, and that had never been a thing before. And I thought, 'well, you know, now I've felt like this, I think I make a really good person to sit with someone else and support them through it.'
"We could take this lived experience and use it. Because, when you see signs and symptoms listed on a page, it's not actually what it feels like."
All of this, says Lee, "is a collection of young adults who want to change this small part of the world for the better.
All of our frontline therapy is delivered by a team of 50+ volunteer peer mentors, on a day-to-day basis. The whole thing is built around people using their own negative life experiences, to do some positive in the lives of others."
Open Door now finds itself a well known and well trusted part of the mental health conversation across not just the city region, but also nationally.
"To our knowledge, there's no one doing what we do, blending the work we do, in the way that we do," says Lee.
"We're good at coming up with ideas on how to approach a subject, but we always work with a partner on it. How can we rip up the rules to make a difference?"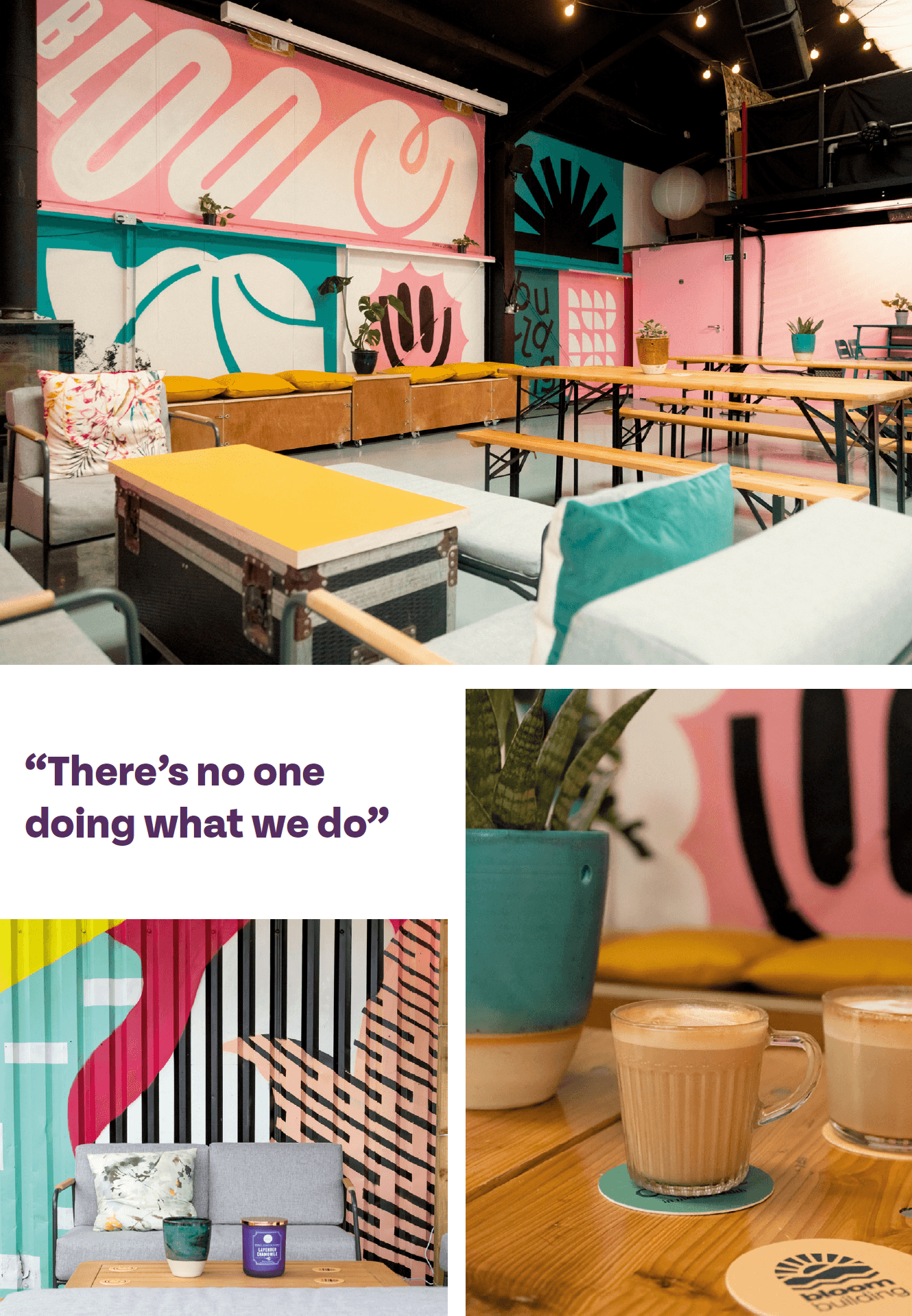 Now, Open Door is working with universities nationally, rolling out its support model. It uses CBT, mindfulness and positive psychology as the basis for its Bazaar 'mind market', which has attracted attention across the education sector.
It's caught the eye of the University of Oxford, and is busy creating an exemplar for how mental wellbeing services can be provided in in a way that's different. The project uses cCBT – computerised cognitive behaviour therapy – which Lee describes as a "triangle loop of information.
"You sit at a computer with a mentor – someone who's been there themselves. The conversation is as important as what's going on with the computer."
It piloted the idea with the University of Northumbria, Liverpool School of Chemistry, and Manchester Met University. Then, last year, the University of Oxford saw its potential.
"It's the research capital of the world, essentially," says Lee. "If we can go in and deliver services that support in a normal way, but bring a research part into the conversation from Oxford University to make sure that we see what comes out the other end, it's a totally different proposition."
Each university approaches the offer differently, but each brings together young people, a conversation around mental health, peer counsellors and local support – often alongside young people who are looking for that experience in social care.
As with its core talking therapies, its effectiveness is in its simplicity… and a knack for seeing things differently.
And next on the agenda is a move to Joy, its new home – a building it will own, which "supercharges the lessons from the Bloom Building into a National Centre of Excellence," he says.
"What I've found," says Pennington, "is that, fundamentally, as soon as you have the space, you fill it.
"There are the very different and very personal needs of people from Wirral and from Birkenhead and Wallasey, as the main catchment areas for what we do.
"We need to respond to that, at the same time as whatever regeneration we know is going on, which is dead exciting for this part of the world and the Left Bank – the whole conversation around Dock Branch Park and Future Yard and everything else.
"We should be part of that and the opportunity was there to be a part of that. So, we looked at it, and were like 'what's the vision?' Well, it sort of writes itself."
Read more about the Joy project here
Lee is being modest when he says that very little will be totally novel and new at Joy. "But it's allowing us to give the necessary time and resource and energy to the things that we should be doing more of," he admits.
Joy is designed to represent and respond to the needs of people locally. "If Wirral had a capital, it's Birkenhead, isn't it?" he asks.
"Whatever the version of gentrification that we all know is playing out – it should be a bit weird and off centre and have mental health at the heart of it. And culture-led regeneration, because that's what Wirral is.
"It's a weird place where Wales meets Liverpool. It's a very strange place. So it should feel like a totally different energy; like a different version of somewhere being regenerated anywhere else in the country."
It is change, driven by the passion of people locally. Lee says: "There's a lot of exciting things going on at the moment that are driven by people who grew up in Wirral and didn't have a music venue to go to, or didn't have a free and immediate therapeutic offer if you were depressed.
"They totally care; deeply care about doing stuff in this part of the world. There's an amazing energy."
In fact, he clarifies, it's not just people from Wirral, pointing to people like Andy and Ryan at Convenience Gallery and the new bake house and the artist's place on Hamilton Square.
"We would always aspire for Open Door to exist where the energy is, where things are exciting. This is not all of a sudden… Birkenhead is like this sleeping giant – for too long it's been undervalued.
"People love the underdog story of it – the fact that this ugly duckling is, all of a sudden, this really unique thing."
3 Abbey Close, Birkenhead, CH41 5FQ