"Eastham's community is cut in half by the A41. That can mean some parts of the community don't meet with each other at times, so it's nice to get everybody in one place."
The Reverend Beth Glover of St. Mary's Church in Eastham is excited for Saturday. So are we; she's expecting around 7,000 people to attend the inaugural Eastham Carnival at Torr Park from 10 AM on 1 July (and advises people to bring their own chairs!).
Eastham Carnival follows on from last summer's Platinum Jubilee celebrations, Beth says. "We think between 5 – 6,000 people attended the park for that and we're expecting a larger turnout for Saturday.
"People came with their own picnics, chairs, tables and even gazebos for the Jubilee, so we advise similar for the carnival. We've got tents for performances scheduled throughout the day, it's free and everyone will get a programme when they arrive."
It sounds like the dictionary definition of 'carnival' to us. Samba and fusion dancing, colourful parades and drum workshops (amongst others) are promised alongside live music performances from award-winning vintage musician Lilli Moore and choir singing.
Giant bubble demonstrations, circus skills events, tennis skills demonstrations, kids' golf, footibees and much more interactive family entertainment will be there. Fairground rides, animal encounters, donkey rides, puppet shows, pottery painting… Beth also tells us that a lady on stilts will be performing in the morning too (which makes us go a bit weak at the knees).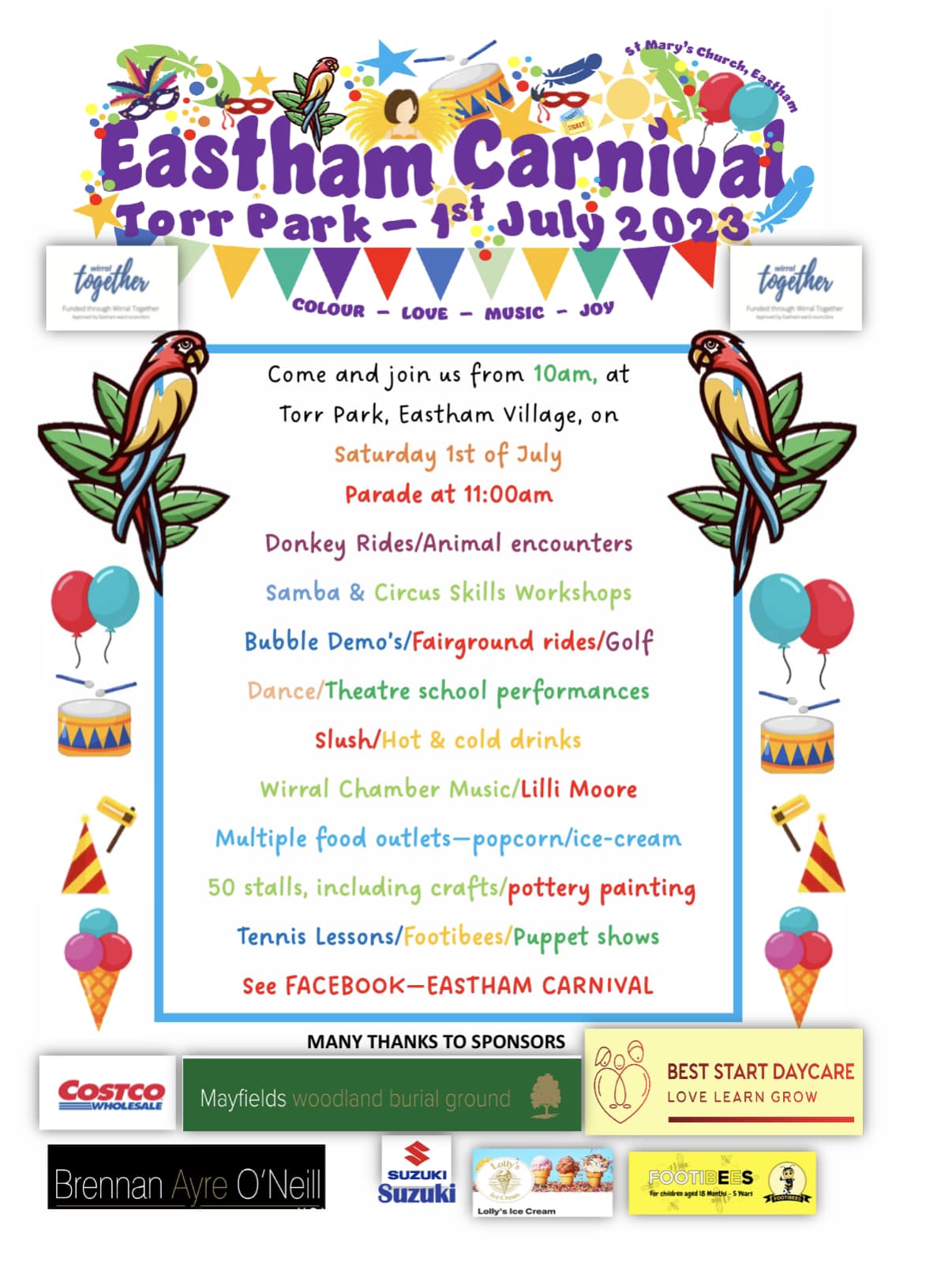 Oh, and we can't forget about the fare at the fair which includes street food, barbecues, Victorian teas, slushies and more – alongside those tasty treats will be over 50 stalls of local independents and makers showing their latest creations, gifts and goodies.
We don't think Eastham's seen anything like it before (though we're happy to be corrected if you've heard a parade of heavy drums around Heygarth Road before).
While the event's being driven by the community, local authority and St Marys Beth tells us that it's also a coming together of local organisations who want to spread some joy across the Left Bank. Wirral Chamber Music Festival, Wirral Drummers, Peninsula Academy Eastham Golf Club, Port Sunlight Lawn Tennis Club and more are all playing a part, too.
"It's free and it'll be bright, cheery and full of colour," Beth says. "We hope the community turns out for the Eastham Carnival."
Eastham getting some South American flair… Well, they get Brazilica over the water, so why not? Let's hope it becomes a regular thing.
Eastham Carnival
Saturday 1 July from 10 AM
Torr Park, Eastham Village Rd, Eastham, Birkenhead, CH62