Climb to the top of Bidston Hill and your trek doesn't have to stop at the windblown sandstone ridge, where hawthorn bushes battle, horizontally, against the relentless winds of the Irish Sea, 80 metres below your feet.
You can, if you visit Bidston Observatory, climb higher: and stand – as we are – eye to eye with those iconic white rooftop domes that peek out above the canopy of Scotch pine and birch trees below.
The best vantage point in Wirral? It's hard to think of anything that would top this. You can peer over the reclaimed strip of land at Leasowe that, just about, holds the sea at arms' length from the nurseries and housing estates beyond the sea defences.
On a good day, you can see Snowdon, Blackpool tower and the mountains of the Lake District.
But, in recent years, it's not the widescreen panoramas that have been drawing people from across Europe to this strange, steampunk-like Victorian research centre. It's what's happening within its sturdy sandstone walls.
From our rooftop perch we can hear a strange whistling sound. Around us, on the railings that stop us tumbling over the parapet, there's an orchestra of empty pop bottles, and whirring windmills – they're harvesting the soundscape for musicians from Liverpool's Ex-Easter Island Head collective. And they offer a clue to what lies beneath.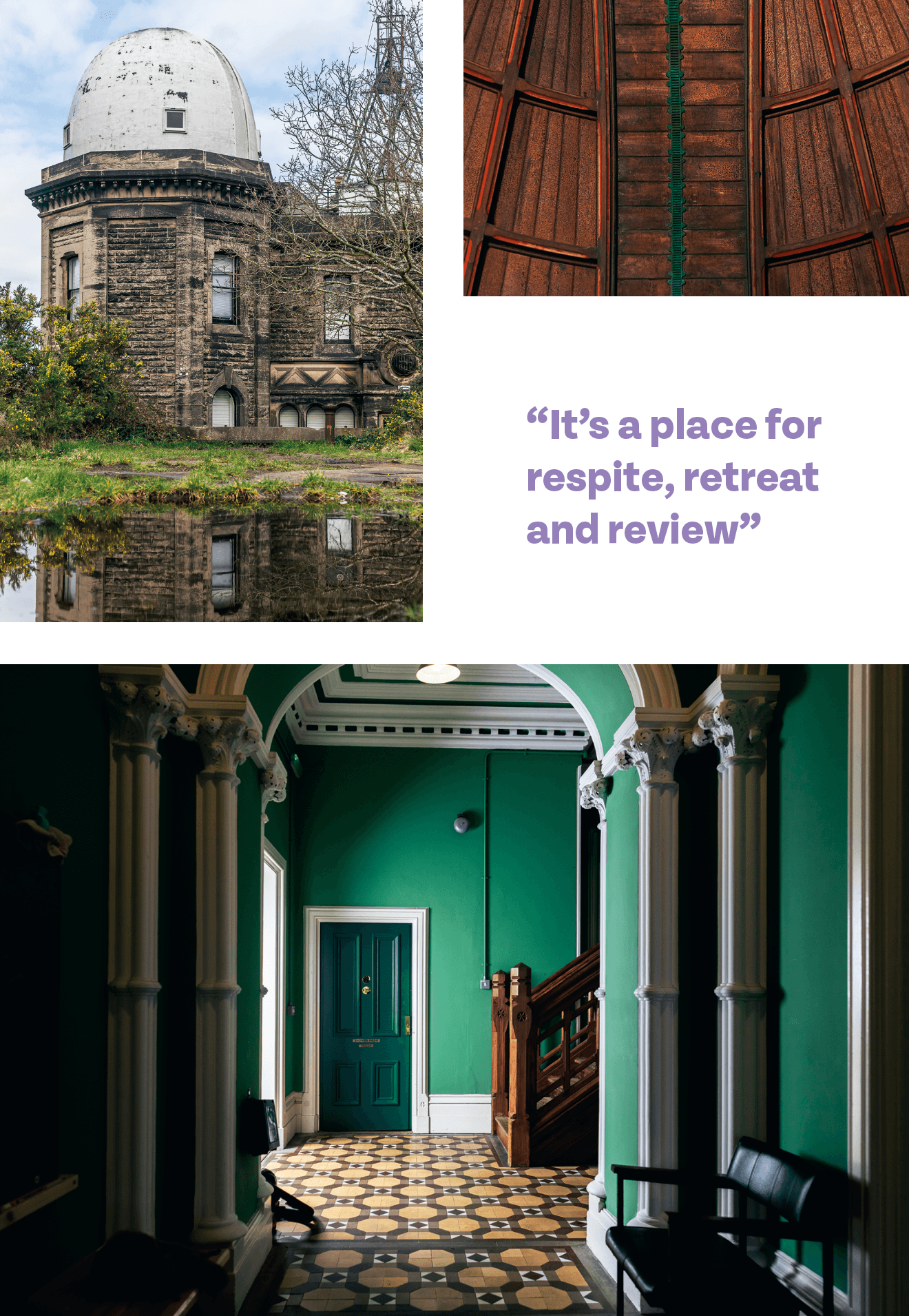 We retreat indoors and take a tour of this incredible space, with its warren of rooms offering more clues: a techno-boffin's lair of circuit boards, dials and monitors here, a cool and airy wellness studio there, and a fully kitted-out radio studio with racks of techno 12 inches in the soundproofed basement.
How many dog walkers, ramblers and mountain bikers have passed by, oblivious to the strange and magical things happening inside this beautiful, enigmatic building?
At the heart of it all is an industrial-scale kitchen and a huge 'everyone's-invited' kitchen table. The Bidston Observatory Artistic Research Centre (BOARC), which owns and occupies the Grade II-listed observatory, is an artist residency space, a short-stay hostel for people working on creative or artistic projects, an internet radio station and events and community space.
The space is designed for people to share what they're working on in the communal spaces and people share meals at the kitchen table.
"Artists, philosophers, designers, musicians, a sprinkling of scientists and activists come and they stay here, between two nights to a month," Kym Ward, one of BOARC's directors tells me.
"We keep the cost extremely low, so that if people want time, which is necessary, they can afford to stay up to two weeks," Kym explains.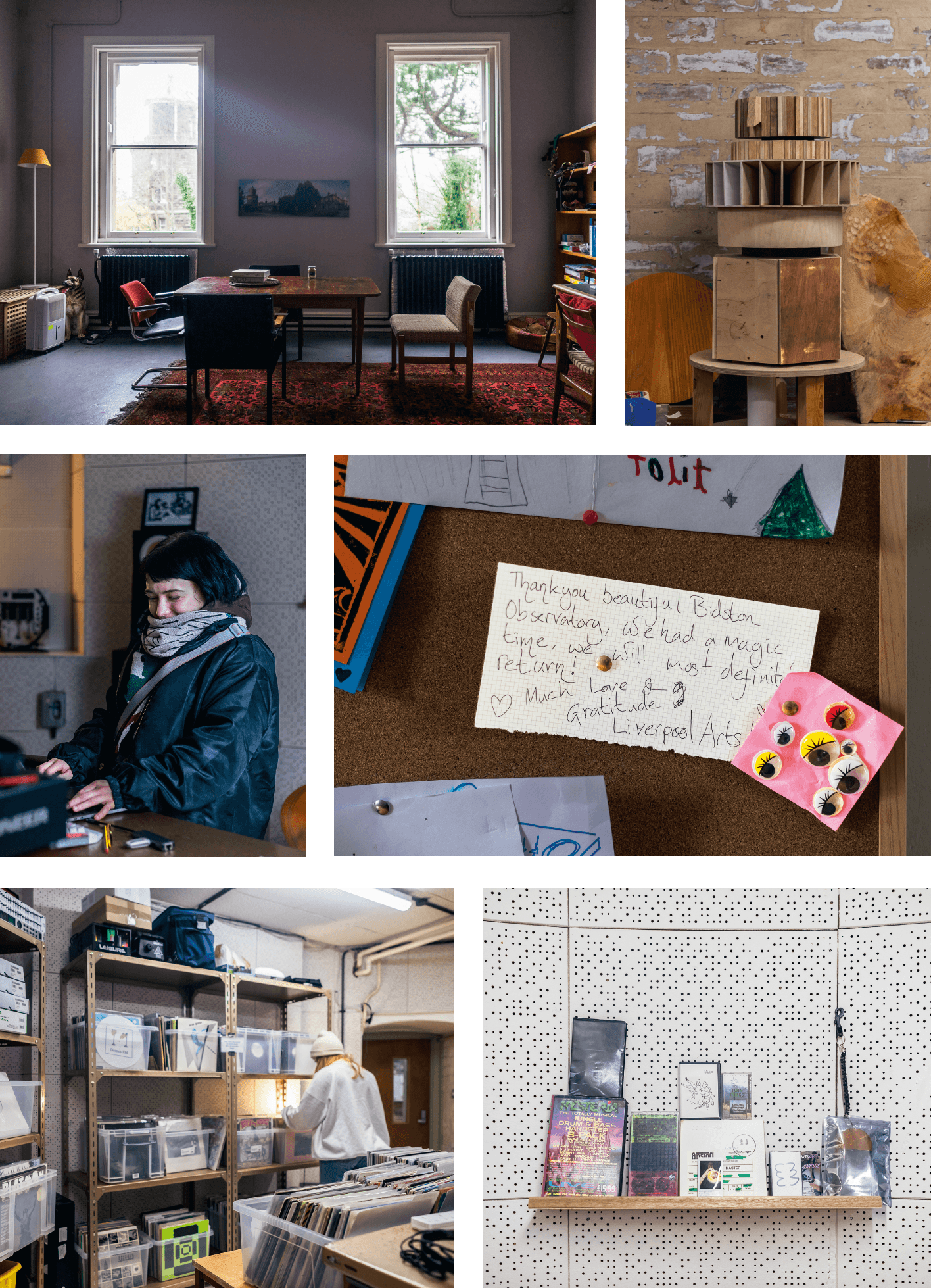 BOARC can host a maximum of 30 people, and it's this random cross-pollination of researchers, wellness experts and musicians that make the magic happen.
On any given night you might be sharing the space with a band working on new material, a local family of creatives, or a French film production crew.
Or you might be staying with Roni Graham, a regular to the space, and who learned about BOARC from a friend who lives in the same over-55s accommodation in Liverpool.
"It's a communal, jovial and eco-friendly place for the groups and individuals that go there for their workshops or individual projects. It's a place for respite, retreat and review," Roni tells me.
"People who come here add their energies to the place. Last time I was here I shared meals with a group of people on a climate change workshop." Next up, for Roni, is a meditation retreat, with gong therapy and yoga.
The remote feeling you get at the top of the hill – which is only a 15-minute walk from Birkenhead's north end, but feels much further – is one of the big draws for those that come here. Time and space have a different meaning here.
"The draw for most people is that they have that time and the space outside of their daily working lives," says Kym Ward.
"It allows you to carve out the time to finish that book, maybe. We try our absolute best to be welcoming to as many different people as possible," Kym says. "Especially to groups who might feel ostracised from public infrastructure and public life."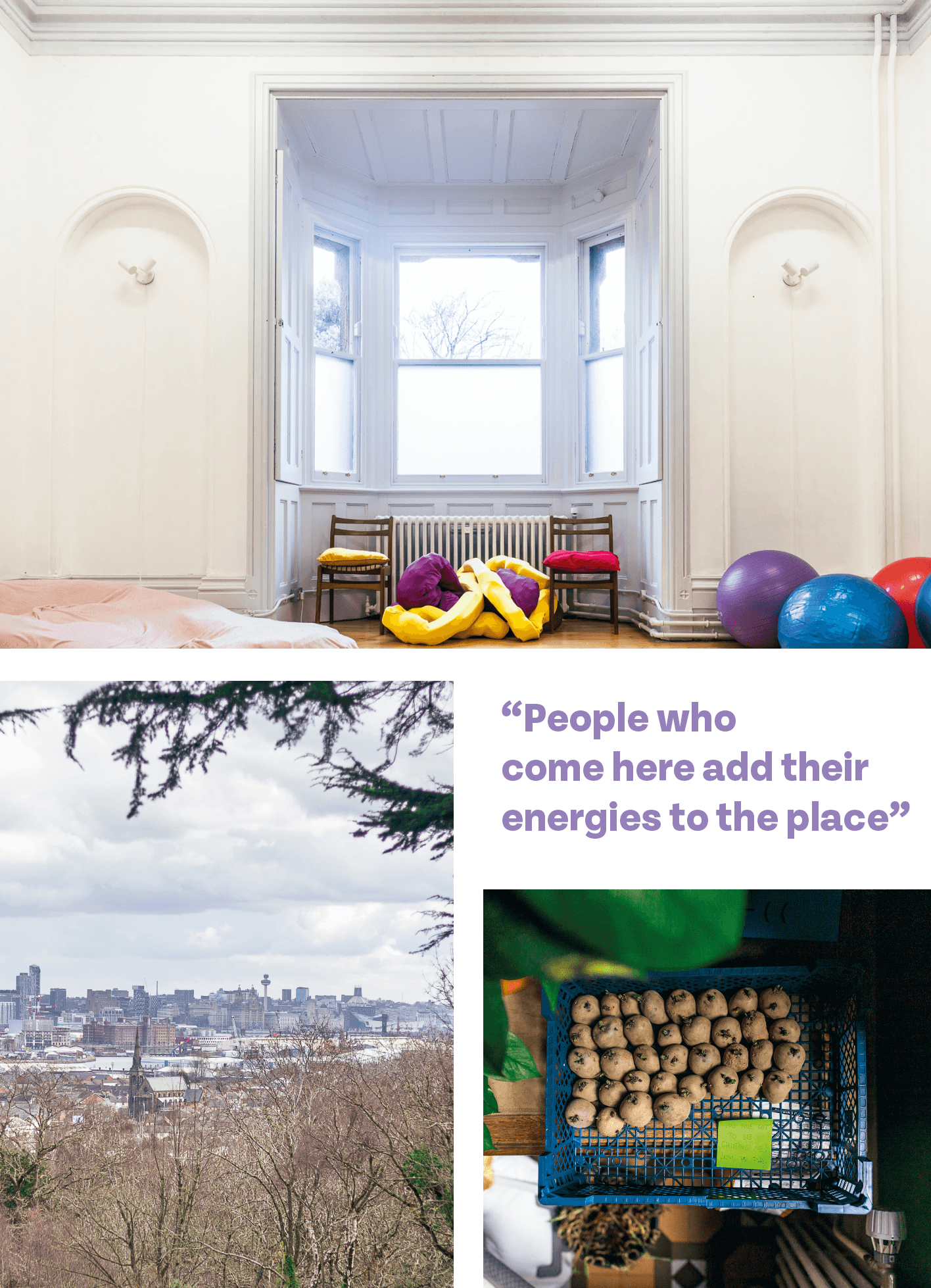 It's a welcome felt by another of the guests. Angelo Madonna was studying for his MA in Fine Art at Liverpool John Moores University when he first stayed at the observatory.
He was drawn to the Observatory by the work happening here – that artists had built a community space for other artists, and by the history of the building.
But it was the sense of community that has stuck with him and has brought him back three times to stay. "It's friendly," he says. "You sit around a table, cook together and conversations just start to emerge.
"You end up spending hours talking with people you've never met before. I met a poet and bought his book and I've had conversations about sound, memory, and haunted places. Nothing's ever planned. It's beautiful."
As Angelo and I chat, our conversation comes back to the physical location of the space, the magic of it as a place to hold creative thinking, endeavours and deeper connections.
"There is a really interesting energy in the place," he says. "It restores me."
From Rotterdam to Bidston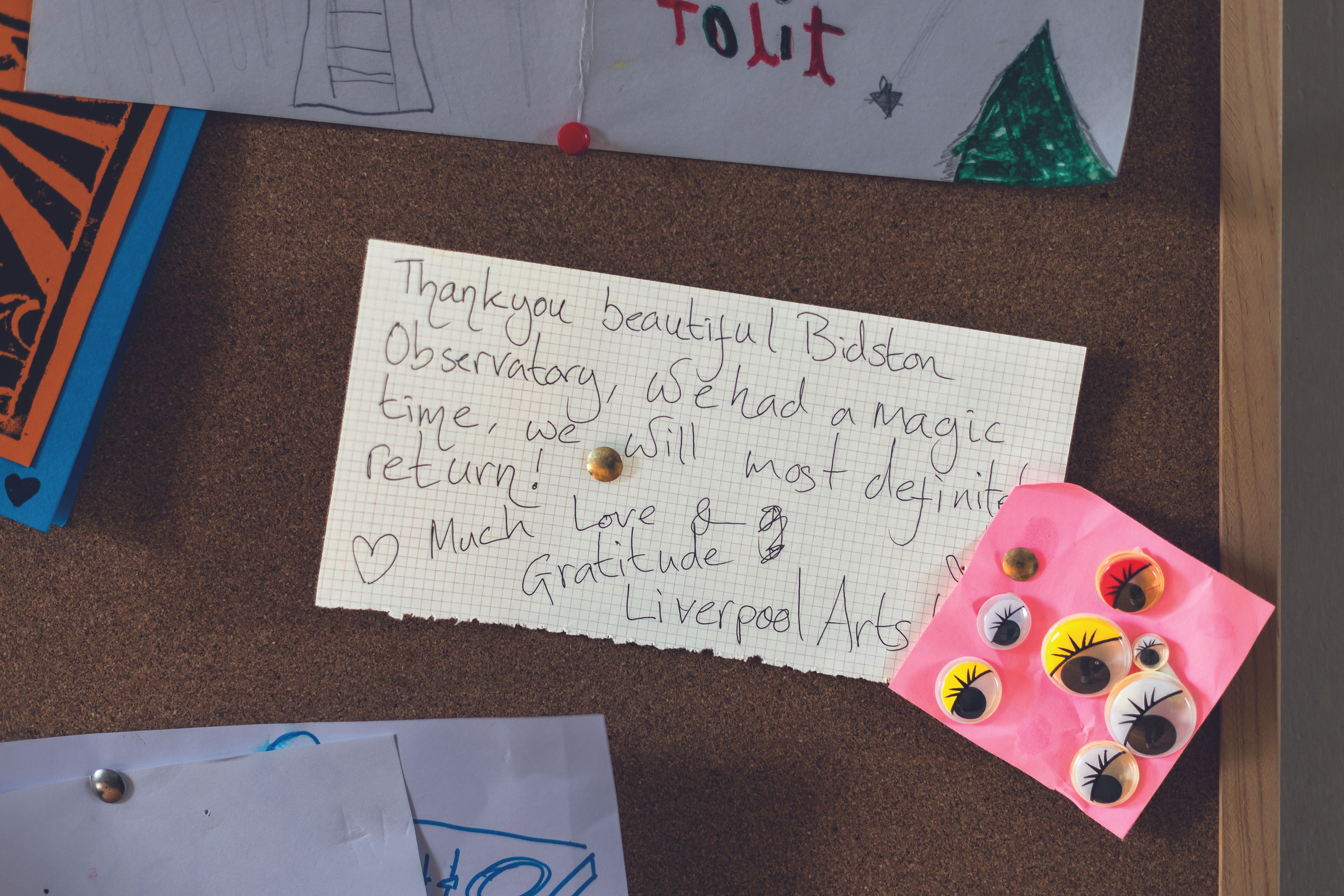 "We were really searching for a place to make this happen. We didn't know whether we'd be able to do it in the UK or, or elsewhere. The model that we're running doesn't really exist in the UK but it does exist in Europe," says Kym Ward, one of BOARC's directors.
"We all come from a fine arts background, and we met in Rotterdam where we were doing our MAs, back in the day when you could when you could study abroad.
"Then we just fell in love with this place and we also knew that its history is extremely rare in the UK, but so rich. It's got these incredible histories of natural earth science and research.
"It was built to observe the stars, but it was really built to observe time."