"He's my best mate in the whole world," Golfo Migos says about her brother, Michalis.
"Michalis is a fantastic self-taught chef whose food needed eating on a wider scale. I roped him into going into business with me so I could show him off to the Wirral and they could be as proud of him as I am."
That business is Indigo in Rock Ferry. Less than a minute's walk from the train station, the café has quickly evolved into a creative events space thanks to Golfo's artistic flair, Michalis's food and the pair's friendly, energetic vibe.
It's only been open for less than six months, but this corner of the Left Bank has already taken Golfo and Michalis into their hearts; we saw it first-hand last weekend when 40-plus people gave them both a warm round of applause after watching the absorbing Wright & Grainger's Orpheus in Indigo's new upstairs venue.
The duo, consisting of playwright Alex Wright and musician Phil Grainger, had just given an emotional, intimate and interactive telling of their take on the '20s Jean Cocteau classic. Their award-winning show has been performed over 500 times internationally, and tells the tale of Eurydice bringing colour into the grey life of Dave, with a little help from Bruce Springsteen's Dancing in the Dark.
Brilliantly stage-managed, we learn that Golfo has form for putting on shows: "I used to manage immersive theatre venues in London but this is my first time running a cafe!" she laughs.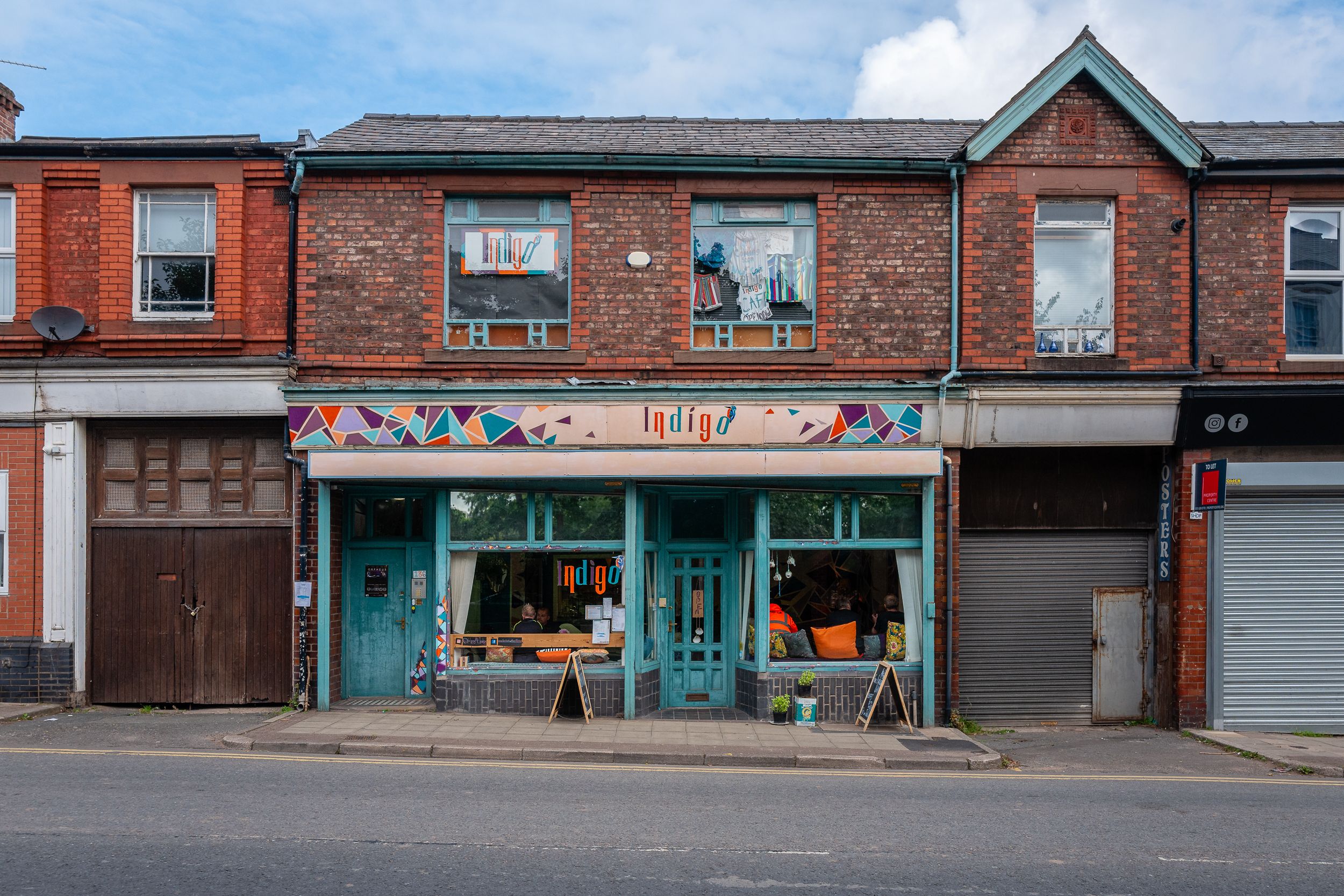 That Alex and Phil immediately asked Golfo and Michalis to share the applause shows that this - the first performance of hopefully many - is the start of a camaraderie the Migos hope to build in their new Rock Ferry home. If they can consistently attract this level of theatre to Indigo, then Rock Ferry will have given birth to a real gem of an arts venue.
It's easy to see why Golfo's so proud of Michalis, too. The pair, of Greek heritage and named after their grandparents, are naturally close - but her pride in her sibling's food is more than a sister bigging up her brother.
The proof is in Indigo's menu with the talented Michalis serving up hearty breakfasts (including a 'Hungry Dan', toast with devilled egg or scrambled tofu, dashed with Chinese chilli paste, celery and rocket).
Flavourful lunchtime butties, bagels and wraps, simple soups alongside more adventurous offerings like Borscht and more are also on the menu, while Michalis also prepares tasty treats such as naughty-looking Chilli-loaded nachos for events like Qwiz nights.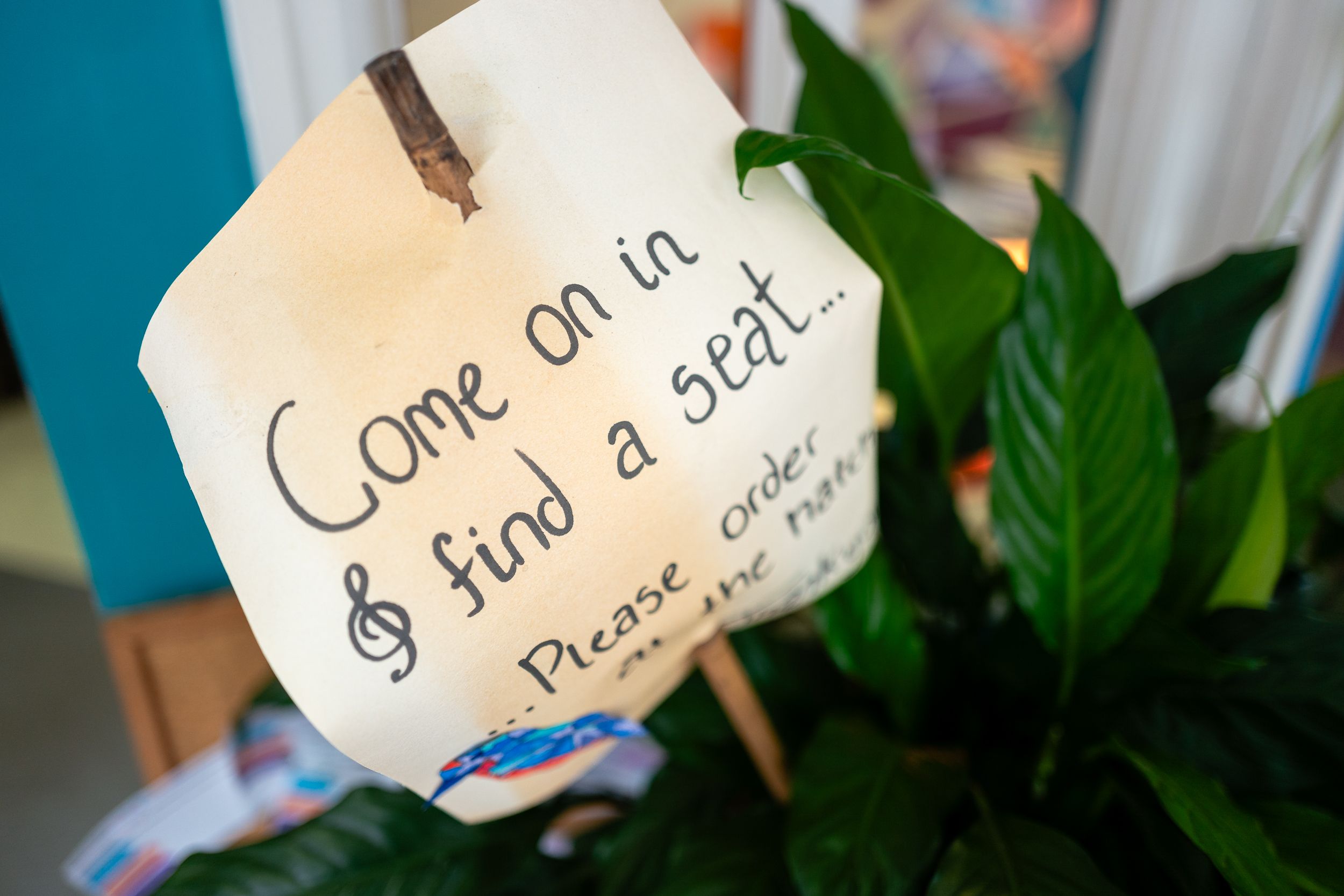 "We grew up in Rock Ferry, went to University and lived in London for a few years," Golfo explains when we ask her why they've set up shop on Bedford Road.
"Covid meant we both returned to the Wirral, and we wanted to do something local that we could both invest our time and passions into. Indigo is what little Golfo has been dreaming about since she was five years old."
Indigo's two floors are open spaces full of colour, with Golfo and Michalis decorating it from top-to-bottom themselves and with help from friends; the beautiful flowery wall mural we spy was painted by Becky (who goes by @EnchantedRadish on Instagram), Golfo tells us.
The comfortable snug is lit with natural light from Indigo's high windows, making the colours on the already bright bunting and cushions pop out even more, while the artist studio is a bit more business-like, ready to host Indigo's workshops and classes.
Filled with upcycled furniture, art deco-style framed mirrors, draped patchwork curtains and potted plants, Golfo's creative design skills also reach outside into the small courtyard garden packed with planters popping with lavender. "We want every person from every walk of life to feel comfortable and welcomed as soon as they walk through Indigo's door," Golfo adds.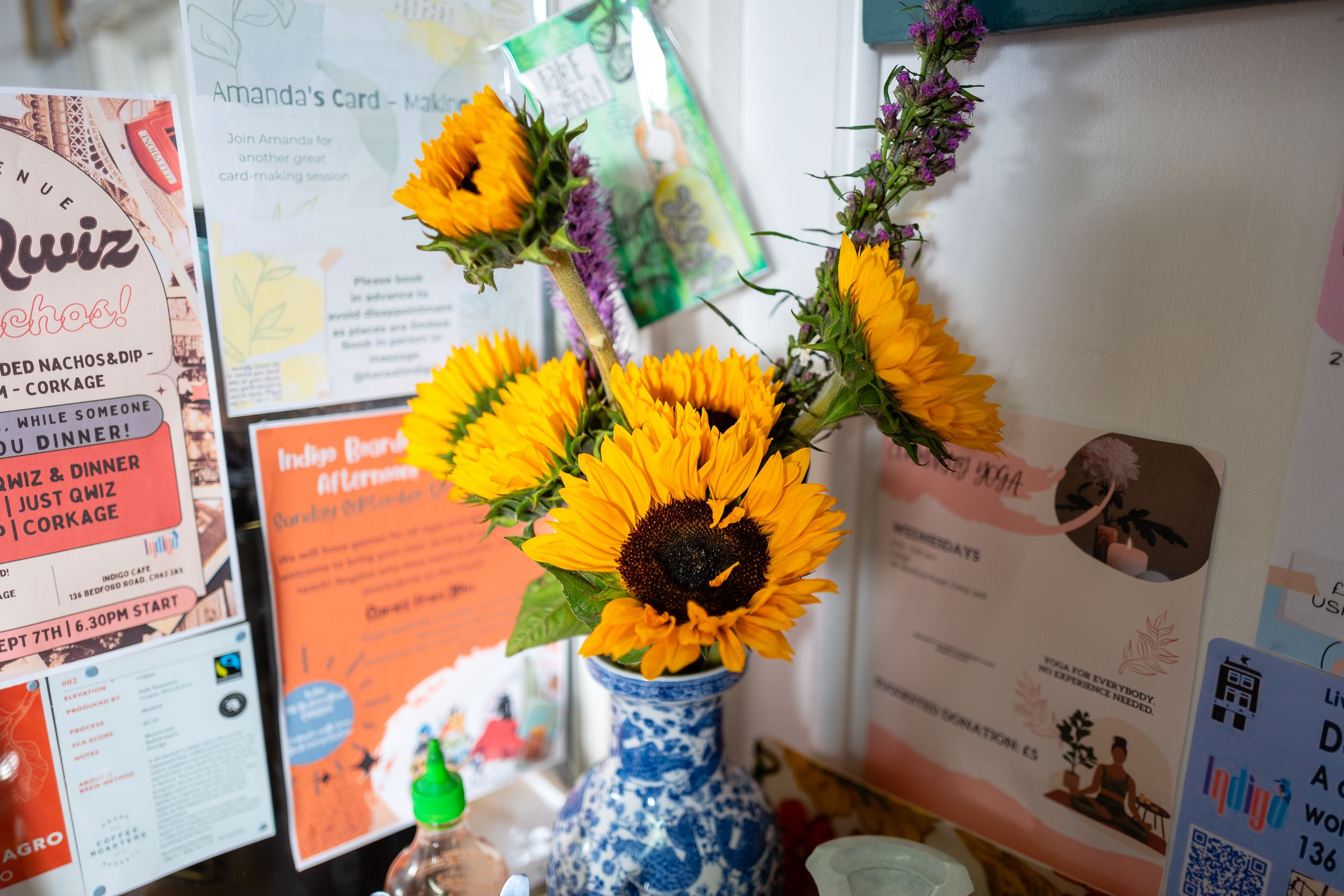 As we saw at Orpheus, Indigo is gaining a core following of creatives throughout Rock Ferry and across the Left Bank thanks to that open-arm approach and Golfo's and Michalis' commitment to making the arts more accessible for people of all ages, of any and every skill level.
Regular events and workshops at Indigo include Crafternoon sessions, designed to attract those who just can't seem to finish projects they've started (or can't find the motivation to begin), offering an inviting space to kick-start the imagination and get them over the finish line.
Indigo also hosts community yoga sessions, boardgame afternoons, life drawing classes, painting and art workshops, open mic and noodle nights, supper clubs and lots more, with Golfo collaborating with other artistic small-business owners and creatives to host in Indigo's space.
"I have 18 million ideas of where I would like Indigo to evolve," Golfo explains. "What's been nice so far is that, about once a week, someone walks through the door asking if they can use Indigo for their new idea...all of which have been somewhere on my bucket list.
"If the place can continue to grow like this - starting new projects because someone from the local community wants them - then I will be an extremely happy bean."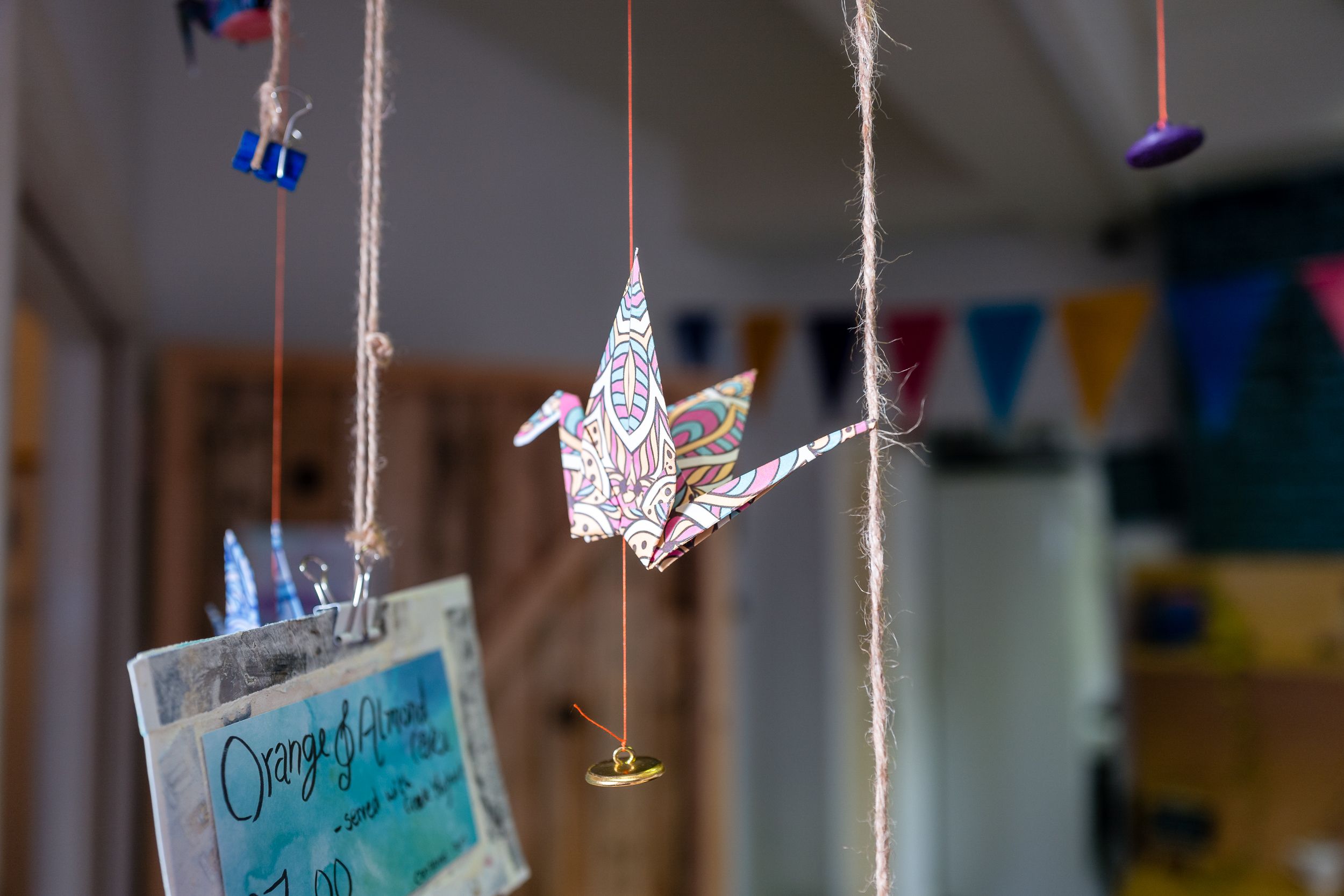 The wider Wirral community has also been incredibly receptive to the events happening at Indigo, with Golfo in particular encouraging people from all walks of life to visit, indulge in Indigo's collaborative vibe and to help the wider Rock Ferry community to grow.
"Our group of regulars are phenomenal. Knowing names and orders off by heart is my daily challenge that I absolutely love. The workshops so far have been very well attended and so much fun, especially Crafternoon held here in the cafe by one of our regulars.
"We've been massively inspired by the work that people like Future Yard and Alison Bailey Smith have been doing. But mostly just by the sheer volume of creatives walking through the door here at Indigo."
Golfo smiles when we ask her what the future holds for Indigo. "I hope it's packed to the rafters from 7 AM 'til 9 PM, seven days a week, with people enjoying themselves."
Indigo
136 Bedford Rd, Rock Ferry, CH42 2AS
Find out more about Indigo and their upcoming events on their website
Image credit: Pete Carr