Tash Evans, Queensway's 25-year-old founder and director is challenging, changing and opening up the electronic music industry.
Together with her brother Nick, they're making the music, and its community, more accessible to more of us – whether that's working behind the scenes, or getting more people on the dancefloor to show what they've got.
"Getting to this point happened very organically," Tash says, explaining that the collective is, in part, a response to an industry in desperate need of a reset.
Tash points to a study by The Jaguar Foundation created by BBC Radio 1 DJ and journalist, Jaguar Bingham.
Its title, Progressing Gender Representation In UK Dance Music, might not sound like an instant floor-filler, but it's definitely a real eye-opener. And it might well be one of the most important wake up calls to our after-dark manoeuvres.
It highlights an industry with a lack of opportunities and safe spaces for female and LGTBQ+ electronic music lovers.
Most alarming of all, it revealed that less than 1% of the top 200 airplay tracks across 2020-21 (sampled from 12 UK dance music stations) featured only female or non-binary artists.
"We're about giving a platform to those underrepresented electronic music artists; to connect them not just with venues, events and promoters but new audiences."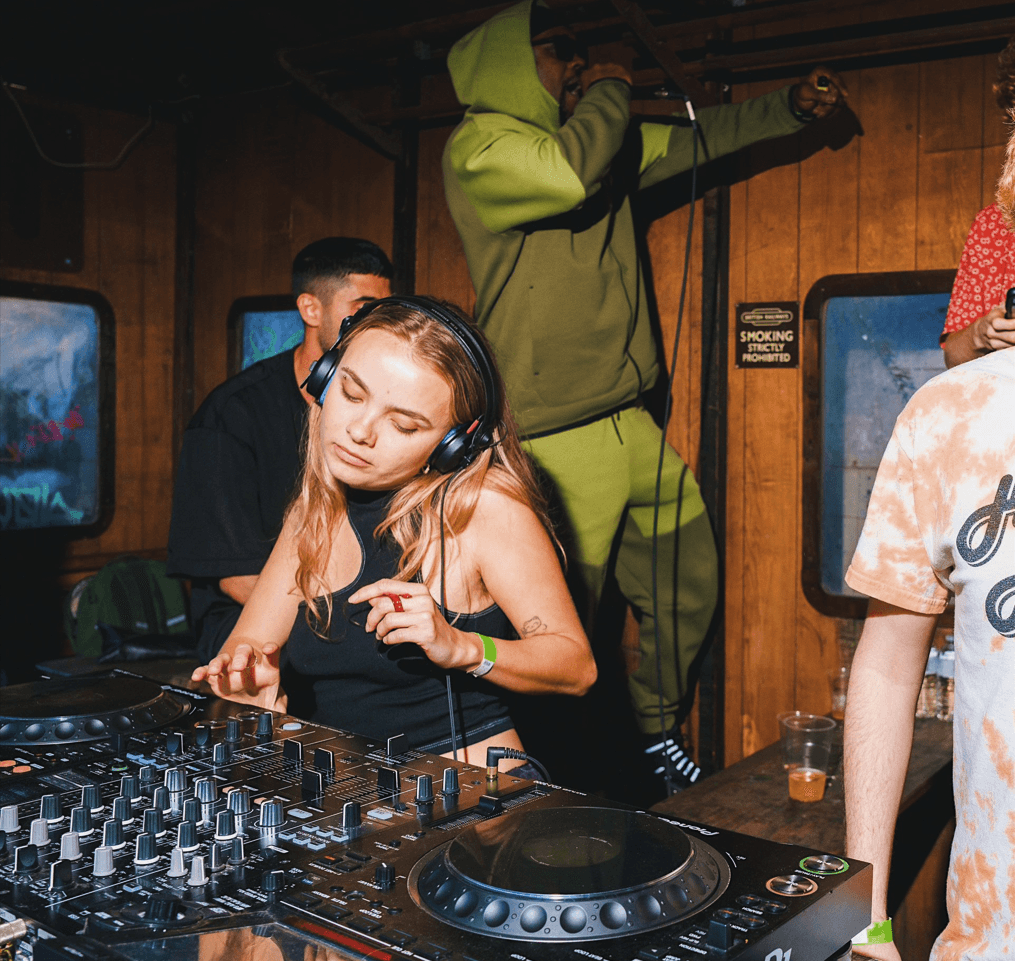 Tash and Nick registered Queensway Collective as a CIC last November. For Tash, it was an important statement of intent. "As a CIC, all profit is reinvested back into our work," she says.
That community of female, non-binary and LGBTQIA+ artists are all welcome at Queensway: "it's a safe space for people who love our kind of music," Tash says.
Venues like Future Yard have been key to Queensway's efforts in connecting their artists with new audiences. "People are desperate to hear new sounds from talented artists that just haven't been given a chance," Tash says.
"I was always extremely into music but I didn't really know other roles existed in the industry other than being in a band," Tash tells us. "I've been really lucky to have friends who've helped," Tash says.
"We spoke to Craig Pennington at Future Yard, whose advice about CICs was invaluable. There's been a lot to learn!" Tash also highlights Convenience Gallery, a CIC itself, which helped her and Nick get off the ground.
Now, Queensway is gaining traction and growing with Tash and Nick introducing new acts to Liverpool Sound City, Homotopia, the Everyman and Unity Theatre.
Independent workshops are also a core way Queensway aims to build engagement. They've already held a number of workshops in collaboration with organisations like Sound City, to help young people who are interested in electronic music to learn more and get involved.
It's not hard to see just how much Tash believes in the work she does. When she's not pushing things forward with Queensway, Tash is a youth worker in Birkenhead and a radio producer at independent internet station, Melodic Distraction.
Queensway Collective also has a monthly residency at the Arts Bar to amplify those marginalised voices through the airwaves and on Instagram. So who's tearing it up at the moment?
Tash talks about producers Alien Izz, Lazygirl and Hannah Morgan. Manchester-based DJ Maracuya gets a mention ("but she's from Bromborough, big up!") and DJ SweetSpot's forthcoming release.
"There's so much great stuff out there," Tash says. "We let these artists know that what they do is amazing, it's appreciated, we hear what they're doing and we completely value it."
Learn more about Queensway Collective on their website
Queensway Collective on Instagram
Listen to Queensway Collective and their artists on SoundCloud
Image credits for both this article and Issue Two: Dominic McDermott and Joe Thomas