"This is our top attraction," Julia Strelczuk announces. "Seven hives of lovely bees that make a very unique honey from all the flowers and herbs in this garden."
We've already seen the stars of the show. Within seconds of sitting down next to a planter of fresh lavender, two fat burly bumblebees rumbled by and perched themselves on the flowers to collect the day's spoils before calling it a day and buzzing off back home. What a life.
When we walk into the newly-opened café at Make Hamilton Square, Nettle – risen from the ashes of the now sadly-departed cafe at Make – fresh nettles cover the counter. Julia didn't know we were coming, and it's not a statement piece. But Julia's going to be turning them and other ingredients from the spacious garden outside into soups and other treats.
Julia shows us around the Make garden's earthly delights. It's packed with pots sprouting vegetables, herbs and flowers. No wonder there are so many hives.
24-year-old Rock Ferry resident Julia is an impressive character. She has that contagious enthusiasm and knows what she wants. Nettle's concept – to serve freshly-grown food and make as much of it on-site as possible – is, in part, a culmination of years of finding herself after some pretty painful personal experiences.
Julia's clear - the only chemicals the bees in Make's garden get is a shot of vitamin D from the warm Birkenhead sun. "We don't use any pesticides, and the bees mostly feed from the plants around us," she says.
"If a bee has a healthy environment it will produce healthy honey. You don't need to alter it or have to do anything else with it.
"With this being raw honey there's no added sugar. It's just pure honey from the bees that goes straight into the jars and into the café."
The bees have plenty to play with in the Make garden to make Nettle's honey. "There's rhubarb in the ground. We've got lavender, rosemary, we've got sunflowers in the back, daisies, camomile. Amazing herbs that have such a great effect on us."
Nettle isn't a vegetarian or vegan cafe, though. Julia serves up locally-sourced, carefully-selected meats and dairy, too, that fit with her wider organic philosophy.
"I'm quite picky when it comes to meat. I want the animals to be grass-fed and cared-for. Edge and Sons in New Ferry are wonderful, it's nice to support the community.
"Our eggs are antibiotic-free which is really rare these days and our veg is from Wirral farmers' markets. I go every Saturday and pick up what I can to make soups and cakes, to keep it seasonal, local and keep carbon footprints low."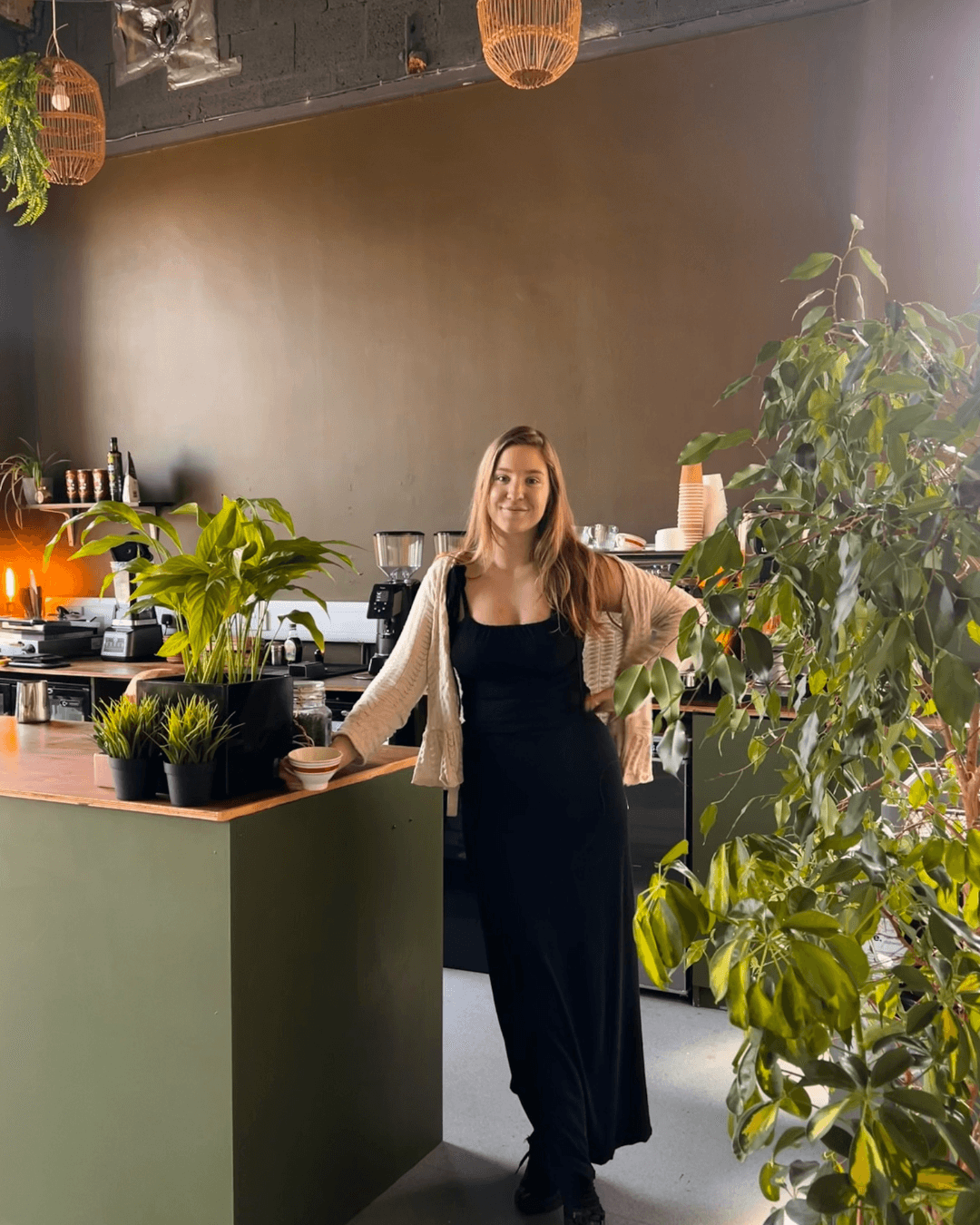 The ingredients Julia's pointing out clearly spark her imagination. Talk turns to the future. The herbs especially will flavour her drinks sooner rather than later, she hopes.
"There aren't any evening things on just yet but I want to apply for an alcohol licence which Kirsten Little, one of the founders of Make, is helping me with.
"The plan is to start an evening service, once approved, and we'll be able to start to put on events for people, charities, CICs – like we did with launch night.
"We had such a good turnout, there was a great atmosphere. It'd be nice to do something like that every month and get people talking, because that's how things happen."
The next few minutes are a tale of community spirit at its best. As well as Kirsten's help, we hear about how much care and attention beekeeper John Lucy gives to the hives and how Rosie Ashton and others, along with Julia, tend to the garden.
Julia found Make when she landed a job at the forest school at Grow-Wellbeing, who are also Make residents. With their support and with the help of the wider Make community, Julia has everything she needs to make Nettle a success.
Nettle, we learn, is Julia's first venture, but she's worked in hospitality since she was 15 including stints as a waitress, barista, manager and even a chef.
Pre-Grow-Wellbeing, the drudgery of life hit Julia hard when working a well-paid job at a bank. That, alongside health issues, brought on an epiphany where she knew she wouldn't be happy until she got back to her roots.
"I felt quite sick three years ago," Julia tells us. "I tried all the conventional routes and methods, as well as seeing professionals, and nothing helped." Julia explored new avenues to feel better and found herself on paths centred around personal wellbeing.
"I finally bit the bullet and tried the holistic way. I travelled around Europe and met loads of practitioners and learned so much.
"I've been medication-free for two-and-a-half years now," she says.
Julia's in no doubt that the natural lifestyle changes she's implemented for herself have been huge in making her feel better. Nettle's menu is a reflection of her personal growth as much as fresh food, and we're looking forward to seeing what she cooks up in the coming months.
"Birkenhead's thriving," she says. "I feel very blessed right now and very excited for the future, to see where Nettle takes me."
Nettle
2 Cleveland Street, Birkenhead, CH41 6ND