From the window all I can see is the swell of a sand dune, the sway of marram grass and a blue, blue sky. Metallic masts jink. My heart thinks I'm on holiday. My head – and my phone – tell me it's a Tuesday morning in the first week of March. Dogs potter about under the tables, the sand is swept from the floor and steaming tea arrives in mugs.
West Cheshire Sailing Club has been in business since 1891. But now, the sailors are joined by an influx of new members: the kitesurfers. Adam Crouch's vision is of a laid back beach community, with European surf vibes.
Kitesurfing has been popular here for the last 15 years; "there's flat, shallow-ish water," says Adam. "An on-shore wind from the north west. It's pretty safe."
The 'kites' are pumped up to hold their shape, with riders braced against the force of the wind to surf the shallows – flying along in a whirl of adrenalin, sea spray and a 20-knot tailwind.
Wirral's 22 miles of coastline is dotted with beaches that are now cleaner than ever. Wallasey is a Blue Flag beach, meeting strict standards for water quality, environmental management and safety, whilst West Kirby, Meols and Moreton are rated 'excellent'.
We're at Wallasey, where this long, low, wooden clubhouse is now the HQ of Wallasey Beach CIC, a growing local community of sailors, surfers and swimmers.
It's here that Adam found a home when, as the UK emerged from its first lockdown, he was searching for a place to kitesurf.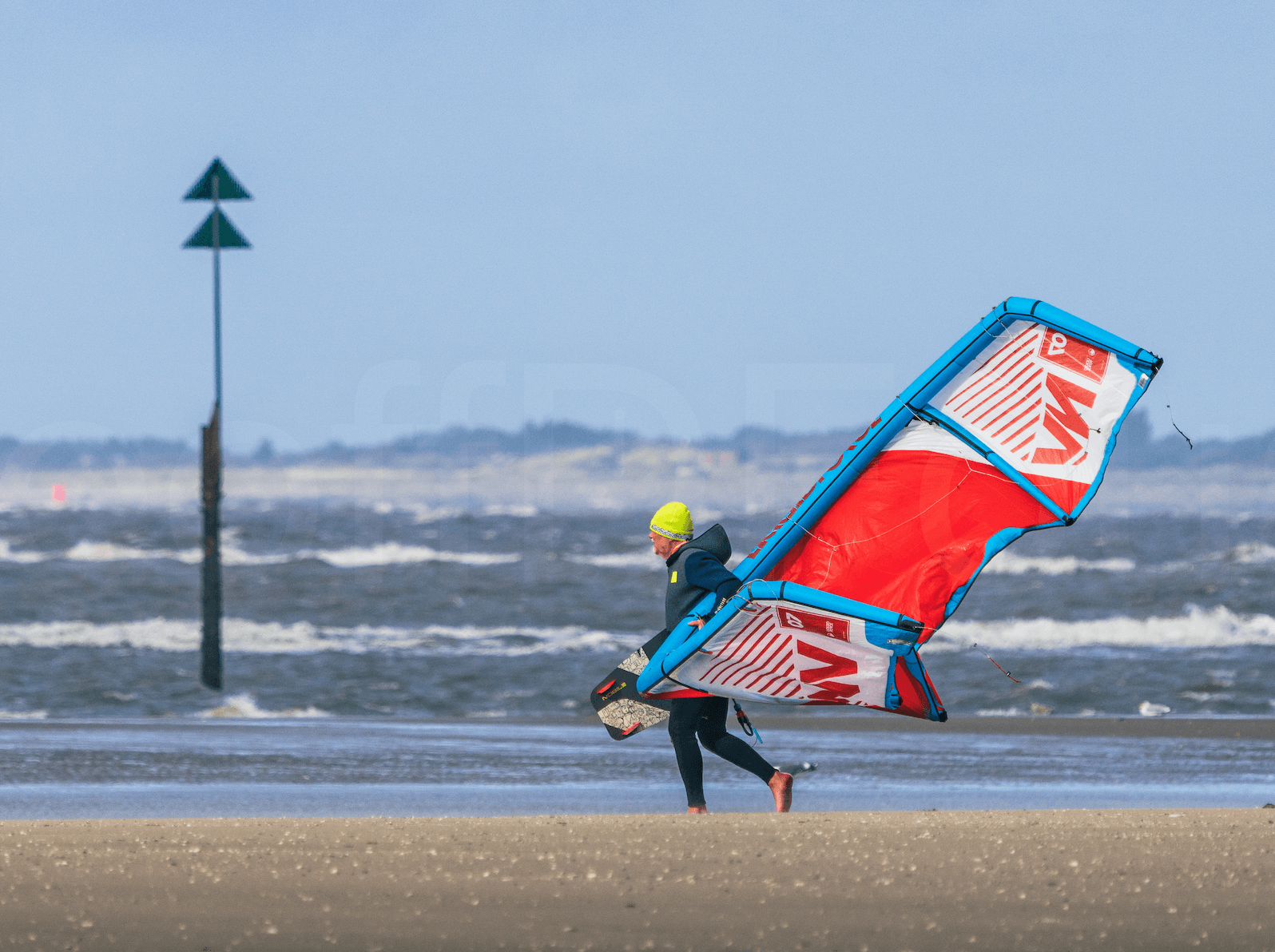 "I was a construction project manager building hospitals. And then I had a mental breakdown, left my job, and went kiting," he says. Having found his spot – but no local kite school – he set up his own, and Northern Kites took shape.
Whereas once sailing was the only way to enjoy the gentle waves round here, now kitesurfing, wing foiling, paddleboarding, open water swimming and pump foiling are just some of the activities you'll see along this stretch of the coast.
"When I first came here, there were around 30-35 people – now we're around 180 members and the kitesurf community is 300 people."
It's one that's only set to grow: April sees Adam start offering wingfoiling lessons – a new sport, listed for potential Olympic inclusion in five years' time. Northern Kites will be the north west's first hub for wingfoiling, and is keeping an eye on other new, emerging sports.
If kite surfers fly, paddleboarders glide. Stand-up paddleboarding – or SUP – uses long, inflatable boards that look a bit like surfboards – and are more rigid than you'd think.
Sarah Smith founded SUP Wirral having seen paddle boarders in Cornwall, and it's fair to say she became something of an aficionado. In just her second year of paddleboarding, Sarah started racing and finished fourth in the UK.
"I had the best mid-life crisis," she laughs. She went on to win gold medals paddleboarding in New Zealand, and became the UK Endurance Champion in 2018.
"And after that, I just decided to relax. To build the business. Every year you have to reinvent yourself, so we brought SUP polo to Wirral – it sells out all the time – and SUP yoga on the boards. And our indoor session at Europa Pools every Sunday is the only one in the country right now."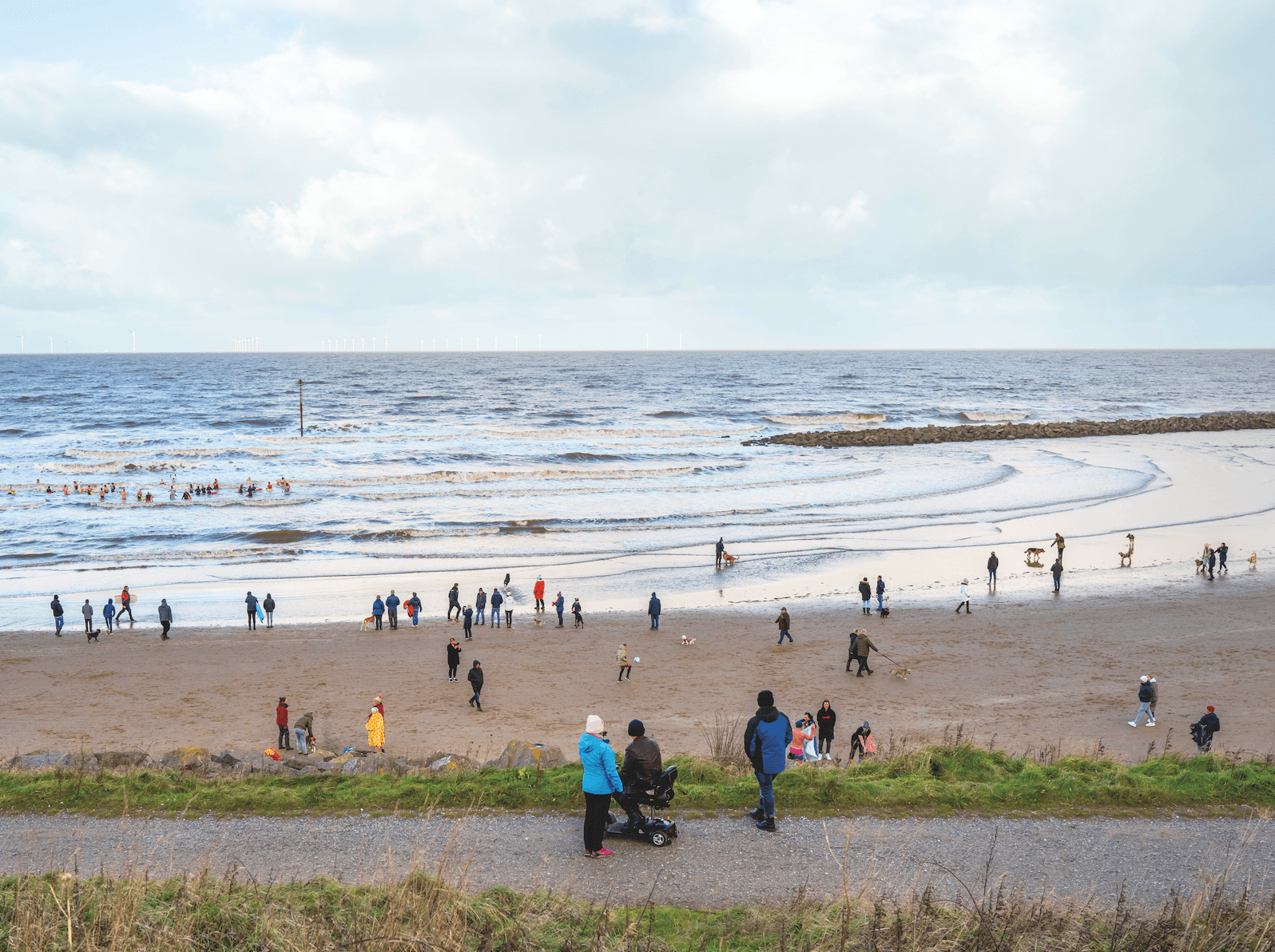 Starting the club at New Brighton, she now holds the lease for Birkenhead's Morpeth Dock – its towering walls buffer an inland shelter for training, socials and race practice at the fast-growing club.
Peel has big plans for the top-heavy hydraulic tower next door; the other side of that, the Stena Line ferry docks, dwarfing everything and everyone.
Sarah coaches people from 12 to 70-something and talks animatedly about how this elegant activity changes lives.
"I teach a girl who has autism, and we take it as fast and slow as she wants to go; there's a young lad who's 11, whose mum wants him to have more confidence. And a young boarder with cancer. 'You have no idea how much you and paddleboarding have changed this family,' her mum always tells me."
There's clearly something about the mastery of the board, and its gentle motion, that calms and converts.
"I've even worked with an ex-serviceman (I'm ex-military) who lost both of his legs in Afghanistan," says Sarah. "By the end of the hour he was up paddling the length. It's accessible to absolutely everyone.
"As soon as you get on the water, it just takes one paddle stroke to relax," she says. "For mental health and stress, everything just floats away. Once they've got it, you can see how amazed they are with themselves. We don't have many places where we get that self praise these days; that satisfaction."
Both Adam and Sarah are careful to stress the safety elements of their sports; taking lessons to learn in a safe environment, listening to instruction and respecting the water. Committing to learn, to earn the fun. But open water's not for everyone.
Deborah Aydon's dad swam at New Brighton's lido on Sunday School trips in the 1930s. She swims every day and has become a huge advocate for lidos, championing a 'People's Pool' for the City Region.
"Wirral has a long culture of public swimming," she says. "There were eight lidos here. The story about the Exmouth pool that went viral recently – the one powered by a computer data centre – well, Port Sunlight was heated by waste from the Lever Brothers factory. We had that here in 1902."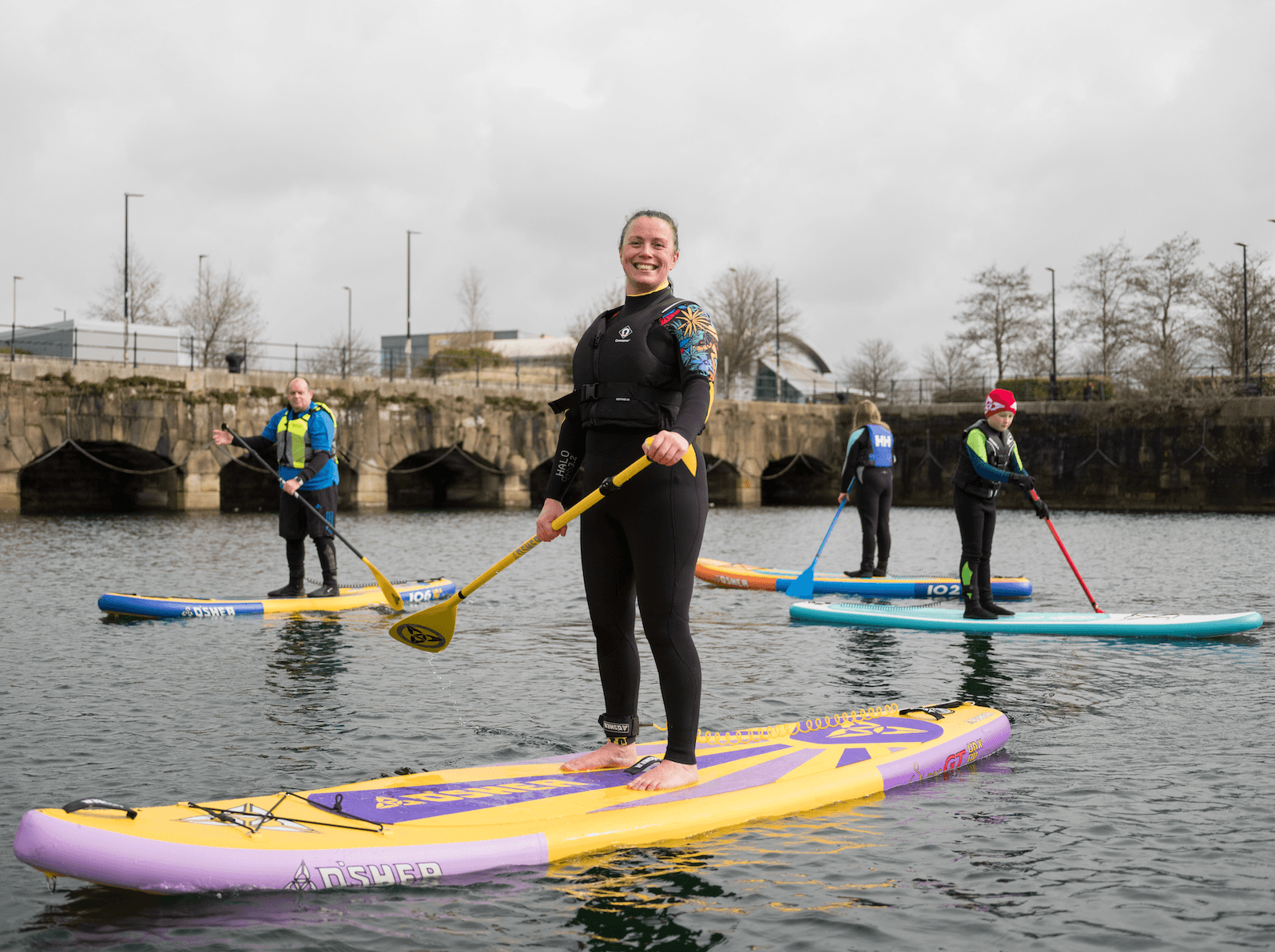 In spite of Wirral's embarrassment of riches for those looking to get out on the water, she'd like to see lido swimming make a reappearance.
"When we're talking about sport and physical activity, a lot of the dialogue is from people who're really sporty, and the majority of the population aren't – and I include myself in that," she says.
"Traditional sporting facilities don't always cater for people who want to exercise for play, pleasure, peace, or to be sociable. Lidos are much more fun, much more relaxed.
"If you're training for a triathlon you can thrash up and down in a wetsuit; if you want to swim a kilometre a day to keep everything moving; if you want to swim up and down slowly and have a chat; dive bomb your teenage mate, if you want to do that; and if you want to sit by the side with a mocktail all day, you can do that too…
"It's more open to a wide range of people, with a wider range of reasons for being there."
Wirral's lidos were built to support the public health of the whole population and often by unemployed labourers – a job creation scheme of the time. New Brighton's lido was the largest in the world, and all were "beautiful and distinctive," says Deborah.
"It was the sheer joy of them – they weren't cookie cutter municipal pools – they were really ambitious."
Now, post-Covid, it's notable that we're having the same conversations about public health and wellbeing. We've come full circle. Options abound.
Take the plunge yourself: