It's a cold, bright day as I step into the Dock Branch railway line, one of the world's first rail freight lines, slicing diagonally through Birkenhead, opened in 1838 but now deserted.
Blackbirds, robins and wrens compete for attention amid the overgrown birch, bramble and buddleia.
Through a set of gates in a Birkenhead joiner's car park is what will one day be Dock Branch Park: a massive – and massively ambitious – project slated to turn this forgotten cutting into a UK first; a huge linear park that marries up housing, heritage, art, ecology – and encourage a ripple of unprecedented regeneration throughout Birkenhead.
Currently the line resembles something from a post-apocalyptic drama: man-made architecture – and what architecture – overtaken by trees, animals and entropy.
An impressive team of public, private and third-sector organisations intend to make Dock Branch Park into the catalyst for a town-wide rebirth of Birkenhead, built on the remains of a twisting brick cathedral running under the feet – and over the heads – of Wirral folk, from Rock Ferry to the former Bidston Docks.
The whole line measures several miles in all, but the first phase of the project will reimagine the serpentine northern section, a subterranean grotto that scythes through the straight lines of Birkenhead's roads and terminates at the Haymarket Tunnel.
The first principle here is that Dock Branch Park will be community-led. What spreads out from this snaking green thread won't be led by developers, but by communities from Birkenhead.
Dock Branch Park will be a standard bearer for heritage-led regeneration. The numbers are staggering, intimidating. 1,200 new homes. Perhaps 20 years to complete. No-one is certain how much it will cost.
"Many millions," admits David Roberts, an independent regeneration advisor and key figure in bringing the plan to fruition – and that money will need to come from an array of different sources.
Two panels are already underway: one for the public and one for artists. A masterplan with input from a team of architects, engineers, historians, ecologists and more, will conclude in the summer, at which point planning and funding applications for the next phase will go ahead and consultations with people in the town will ramp up.
By 2024 we might have a firm idea of what Dock Branch Park will look like. David is keen to emphasise that what emerges will grow from what's already in the town.
Heritage, people, biodiversity – Birkenhead's tradition of innovation.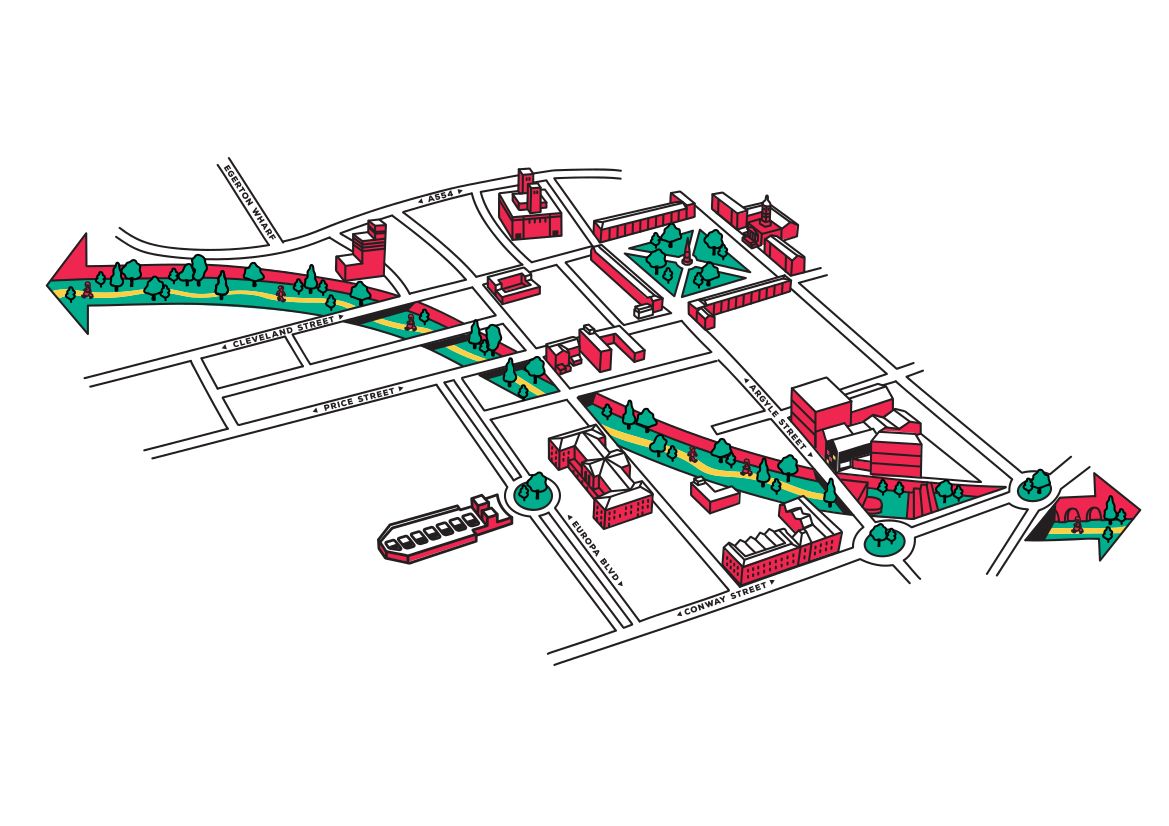 "It's a blank canvas, so the idea is that this should be better than anything else in the region," he says.
"The risk is that any development, is seen as good development but we don't want people to come here because it's cheaper, but because it's better.
"Liverpool doesn't have this, Manchester doesn't have this. This will be Birkenhead's – and nowhere else will have anything like it."
Transport Shed
"A completely different type of experience," and 'very much not a finished museum experience' promises National Museums Liverpool's Sandra Penketh of one of Dock Branch Park's most significant developments.
The Transport Shed will be a new attraction featuring lesser spotted artefacts from NML's nationally significant transport collection: think locomotives, cars, fire engines, ticket booths... 'democratic' art, Sandra calls it. Objects we can all relate to.
"Birkenhead has this fantastic heritage of innovation and particularly in terms of transport," says Sandra. "They were pivotal for its economy and growth."
The hope is that transport can once again be a catalyst for rebirth on the Left Bank.
Gardens
David Roberts sees the Dock Branch gardens as a string of pearls, curated by local artists and residents to create a series of plots dense with plants, foliage and animal life.
Gardens, greenhouses and art could exist side-by-side as a living exploration of how housing development, heritage and nature can work together.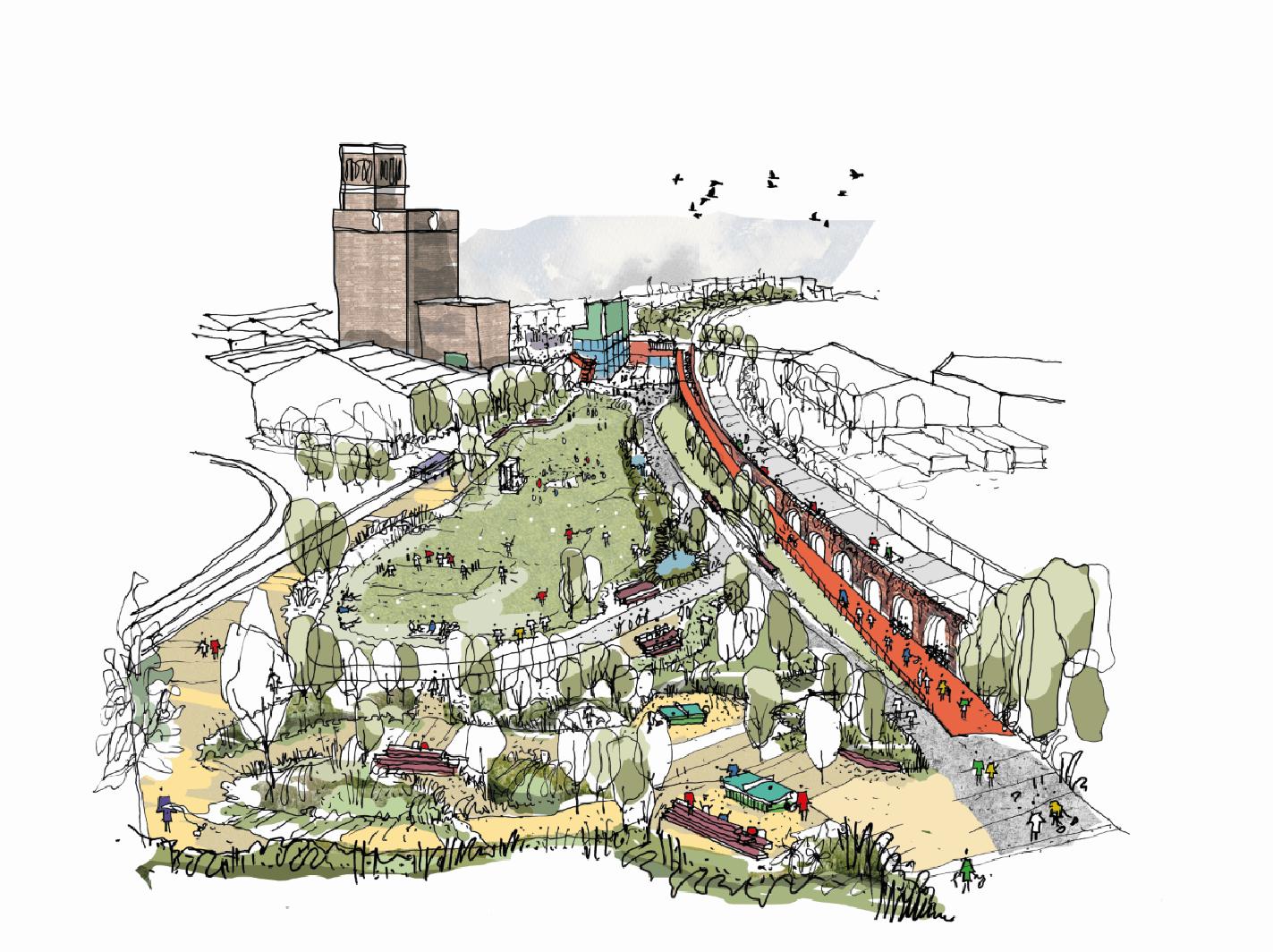 Future Yard
There are more obvious uses, perhaps, for a railway cutting than an open-air venue. But Chris Torpey isn't put off. In fact Future Yard CIC's Director is looking to see whether this community-minded space can venture down into the park to offer the town a new al fresco arts and performance space.
"We could have connections to our current garden space and ensure the traditional brick archways stay part of the look and feel," Chris says. "It'll offer a different vibe for Birkenhead and maybe attract people to a nice green space."
Haymarket Tunnel
Artist Di Mainstone has been tasked with imagining how Haymarket Tunnel, the terminus for the first phase of Dock Branch Park and perhaps the most impressive, extant part of the line, could be turned into something… extraordinary.
The tunnel runs under the approaches to the Queensway tunnel, with rounded arches: "almost theatrical… lots of spaces for discovery," notes Di, whose multi-disciplinary installations have turned humans into harps, or sandpits into musical instruments.
"Birkenhead reminds me of what it was like in London before the Olympics, where artists had space to create and work. There's a really exciting atmosphere here, like anything could be possible," Di says.
"I want to bring science and art together to reflect a theme of diversity. Arts are a really great lens through which to understand complicated stories.
"Left Bank communities must have their say too."