"The idea of CRAFTBAR was to create a roving workspace to explore, experiment, play and learn about sustainable and circular making processes," Convenience Gallery co-founder Andy Shaw tells us.
And so, CRAFTBAR was born. Well, the idea for it, anyway.
Wouldn't it be wonderful to live in a world where creative inspiration suddenly starts to snap, crackle and pop in your brain like a bowl of Rice Krispies? Inspired, you share your event online, open your doors, watch people roll-up and – hey presto – you've made a difference to people's live.
That approach is, sadly, how a lot of great, fresh new ideas for local projects fall at the first hurdle.
The intentions are usually sound, but to enact real change throughout a community, you have to work extremely hard with the people in and around it over time and bring them with you.
You then have to collaborate to bend the notion and try to break it to see if it's strong; test it again and again to gather feedback and attract criticism and then, if it's still standing, spread the word.
That's how Convenience Gallery's idea went all the way from a creative idea to inspire and involve the neighbourhood to busy inaugural event at Pilgrim Street Arts Centre on 24 March.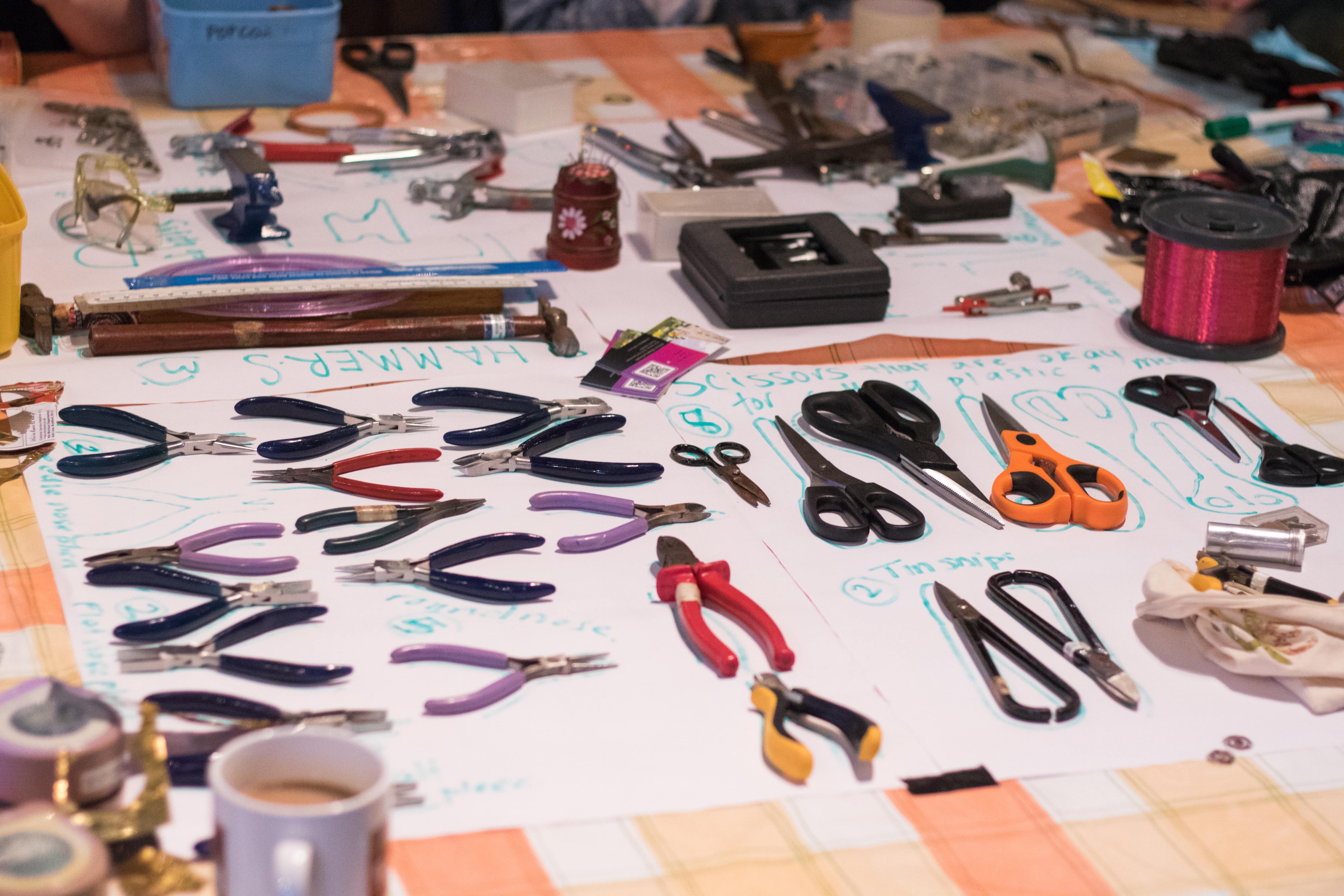 Convenience Gallery have been creating and hosting community artistic events since 2019.
Everyone's always invited and they've learned how to put on a good show through years of trial and error.
CRAFTBAR is their latest venture - A series of workshops and seminars held around the left bank, hosted by experienced local creatives who know their fabrics from their ceramics.
Anyone with an artistic itch - no matter their skill level - is welcome so, if you think you're good with your feelers but have been sat on your hands for too long, then CRAFTBAR's the perfect place to meet like-minds and start anew.
"We had an overwhelmingly positive response from attendees, and everyone involved. Nearly all the future sessions have been booked up off the back of the night," Andy says. But we want to know a bit more about what happened in between concept and the commencing of communal crafting.
"A lot of the community were asking for more workshops and, in the world of sustainability, we wanted to shape a really diverse series to meet this need," Andy tells us.
"We started the project as a collaboration with Ryla Dilkes, a superb artist. We ran some pilot workshops with Ryla around circular approaches to making, and then a further session with local artist, jeweller and designer, Amy Flynn (AKA Dripped Goods).
"These were received really well, so we put in some funding applications to be able to put on a series of workshops under the CRAFTBAR banner."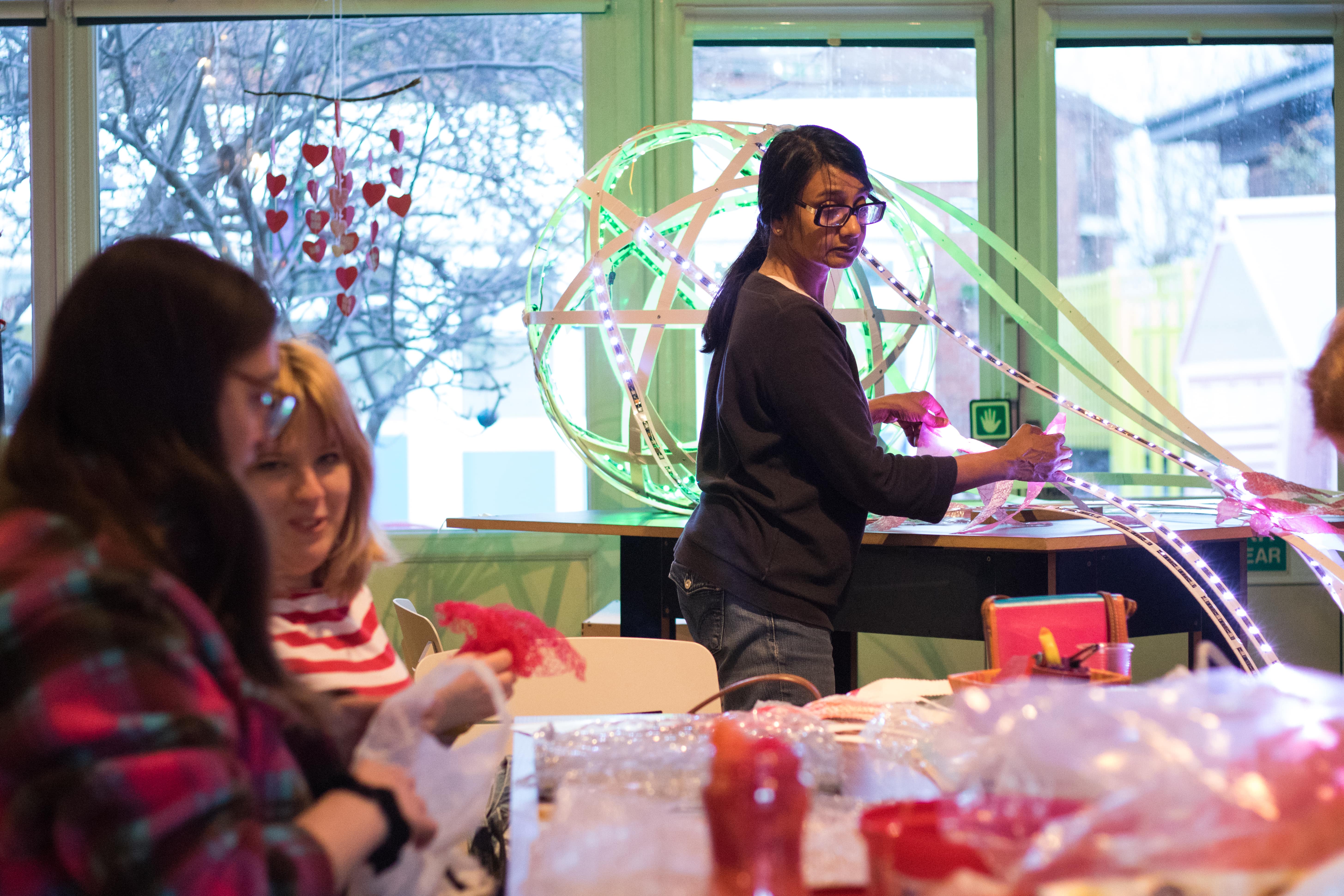 All of which might sound easy, but working with others, co-ordinating test events, sourcing space, trying not to take criticism personally and sitting at home late at night filling in funding forms is, arguably, when ideas are at their most fragile.
It's a lot, and becomes overwhelming for many, but the balance of involving the community while also wanting to help serve and develop Left Bank's access to creative collaboration kept Convenience Gallery going.
"As curators, we're really proud to co-build with local people and draw on the expertise of an incredibly talented local creative community," Andy explains.
"We want to support the needs of the whole community to make events that really excite people and also break down barriers that people often face in accessing culture programming.
"Everyone involved in the programme has submitted ideas to us in the past for this. We try as much as possible and within our resources to support bringing the ideas put forward to life."
"CRAFTBAR is a result of years of this kind of working; championing local people to give a platform for the local community to build and shape our programmes, and also for workshop leaders to be paid living and fair wages to work in the arts."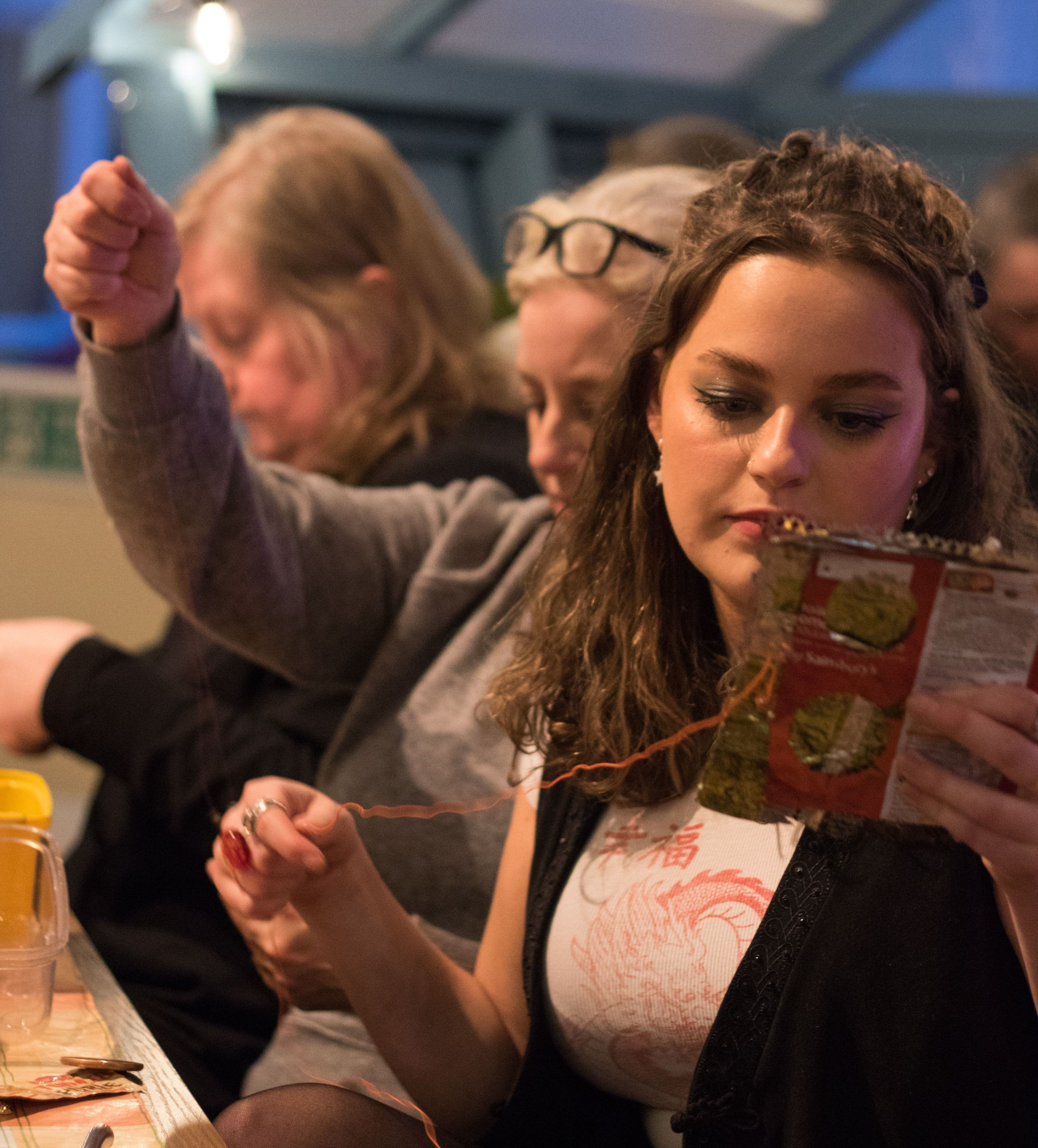 Two artists working CRAFTBAR on launch night were Alison Bailey Smith and Jackie Pease.
Legends on the Left Bank creative scene, the pair hosted seminars and workshops about how to make sculptures from 'soft waste', teach them about circular making, and kept a watchful eye over everyone.
Most important for CRAFTBAR, though, was how the pair put their arms around people with varying skillsets – from beginners to more-advanced makers – to show them how to use tools safely, and teach them about how to look at crafting through a sustainable lens.
"Alison and Jackie did incredible jobs on the night engaging the audiences and teaching and sharing skills, which is what CRAFTBAR is all about," Andy says.
We think Alison may have had a spot of first-night nerves, though. "Initially, I have to say, I was dreading the combination of music and trying to relay safety information to participants in a confined space," she admits. "How wrong I was, though!"
She quickly got into her stride and is delighted with how opening night went. "The launch event for CRAFTBAR went very well, with myself and Jackie delivering two separate workshops in the Art Centre's communal space alongside a DJ.
"The event had a friendly, casual atmosphere with a real mixture of ages attending. I'm very happy with the success of my workshop 'Urban Foraging' which showed crafters how to create a pin or brooch from rubbish.
"Because of the massive numbers, it wasn't possible to have a super-intense session and show everyone my own detailed way of working, but everyone was encouraged to have a go, play and learn to look at rubbish in a different way."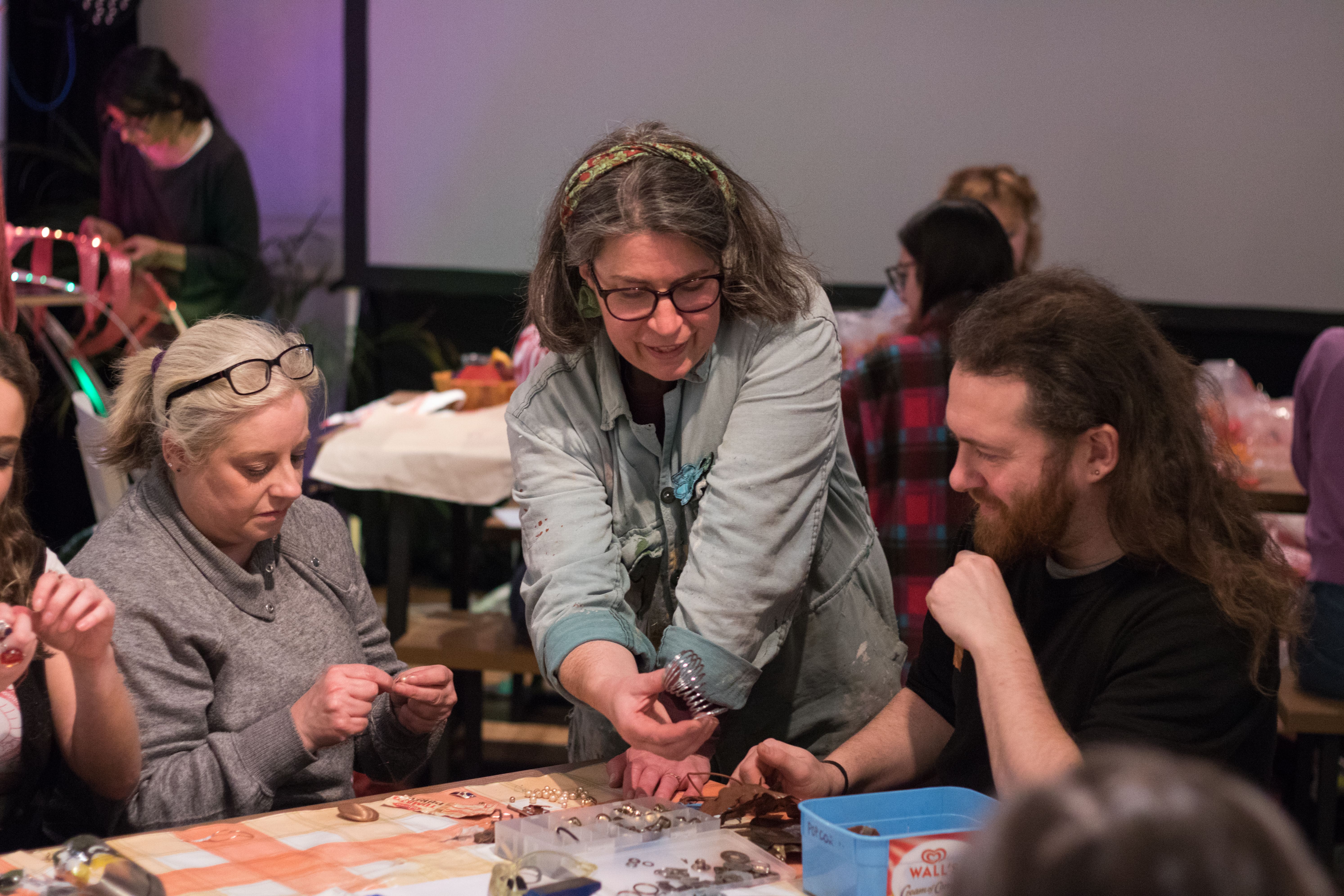 Alison's work is rubbish. Not in an 'us being horrible on the playground' way, of course; she's an extremely talented crafter and maker who excels at turning waste material into beautiful jewellery and other works of art.
She also had a big hand in saving Ron's Place recently, and has been described by the BBC as a 'techno cannibal'.
As mentioned, she was joined at CRAFTBAR's launch by DoES Liverpool's Jackie Pease, who held a workshop on tackling the problem of plastic pollution head-on by shaping soft waste into spectacular sculptures.
No matter your skill set or level, Alison, Jackie and CRAFTBAR's other leaders are there to build your confidence. So don't worry about making a load of old scrap, that's kind of the point.
"Our workshops taught participants about combining found metals and plastics in layers using cold-connection techniques such as folding, stitching with wire, riveting and using brads," Alison explains.
"I love how some of the early participants were able to share their newly-found knowledge with later arrivals on the night, too," she enthuses. "The attendees made brooches mostly, but a couple of people made small panels and others made earrings.
"I felt people were very open to having a go and the activities seemed to open their minds to looking at trash in a different way. The feedback was really positive and many people completed the evaluation forms very happily at the end of a busy night."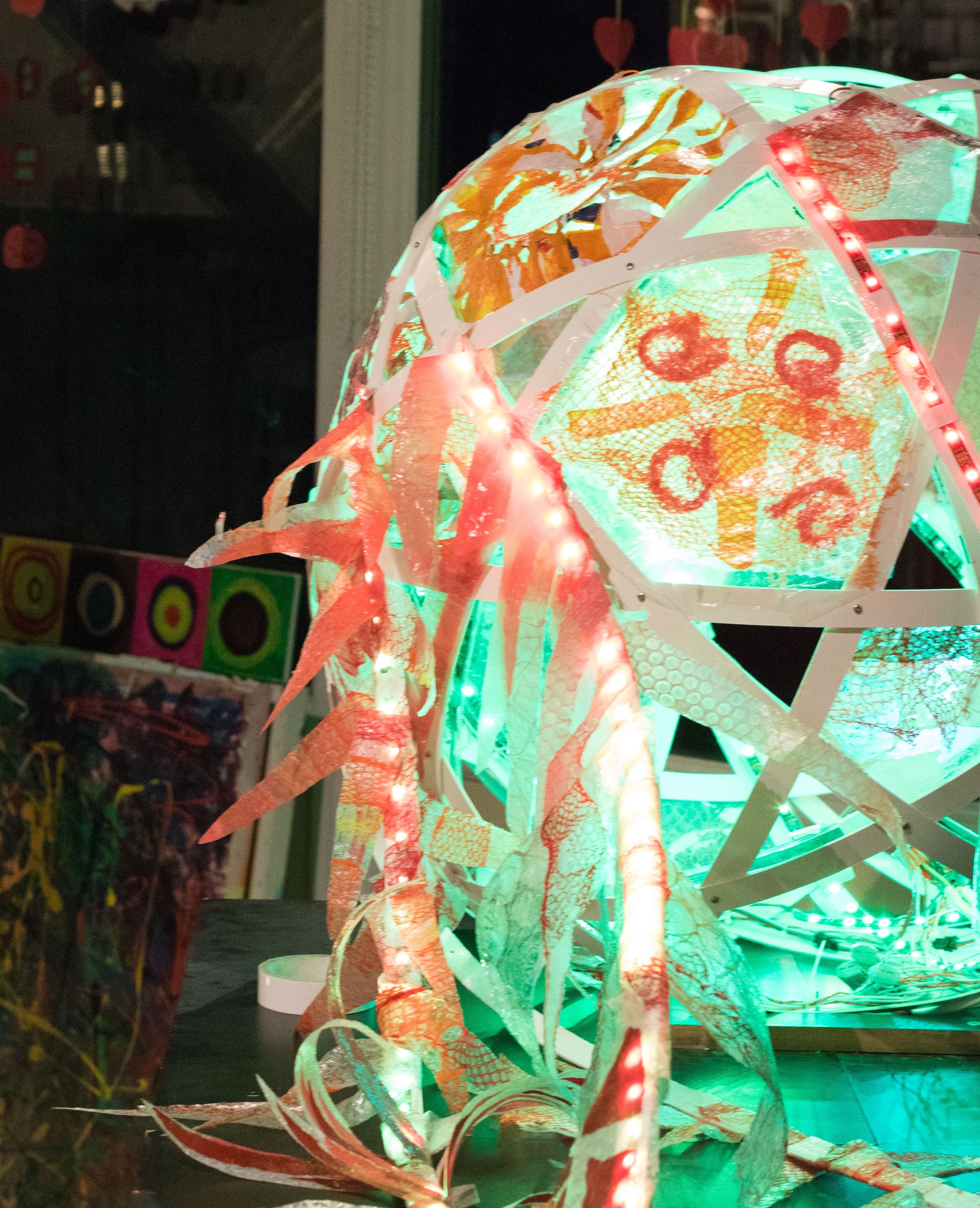 Alison takes pride in sustainable making, design, circular thinking and more – the central themes running through CRAFTBAR.
It's a set, core attitude and mindset for when Alison works on her own craft projects, and she felt she was able to show the benefits of this approach and its practical benefits during her sessions. "I felt there was a greater understanding of the level of detail in my own work," she says.
We're interested in the feedback forms. Again, putting on community events of this calibre is a constantly-evolving process. The hard work doesn't stop once initial funding has been granted; it carries on long after the last person has left the building.
The real work of art here is Convenience Gallery's attention to detail before and after the show – constantly learning and asking for opinions and criticism to evolve the idea of CRAFTBAR, to make sure it always works for and serves the community.
Thankfully though, Andy is able to echo Alison's sentiments about the forms, and that their audience went home happy end of the night. "Most commonly on our feedback form it said 'more of the same' when asked what programming people would like to see in the future," Andy explains.
"It was also expressed how important it was to be free to attend - so we are very keen to maintain and grow this project well into the future.
"It's also been great to see people's creations tagging us on social media too off the back of the night, so it really felt like CRAFTBAR's opening night was a really positive start to the programme."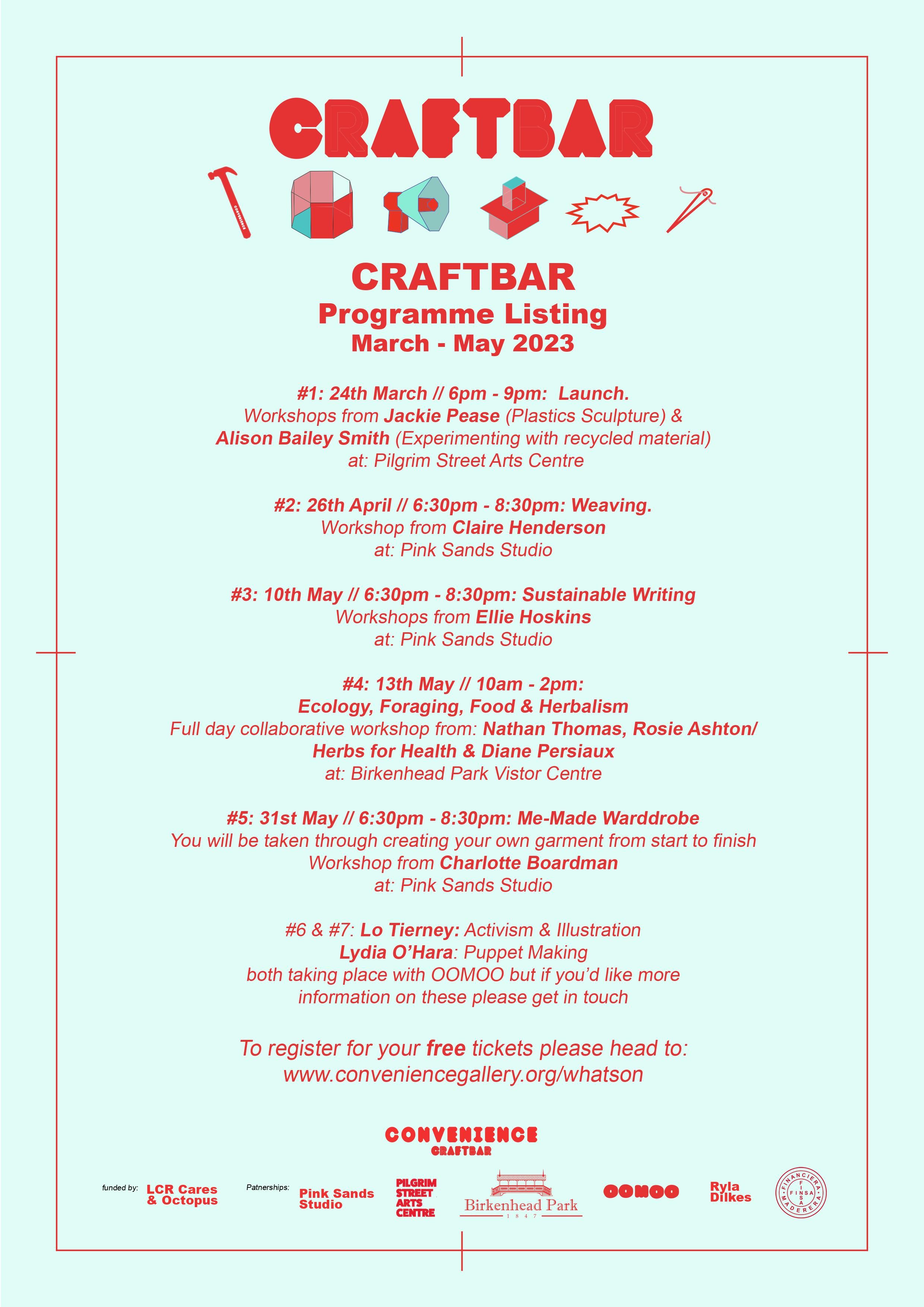 There's more to come from CRAFTBAR. Convenience Gallery and co. are hosting more creative collaboration nights at community spaces across Left Bank all the way through to the end of May.
Places are filling up fast, too; so much so that Convenience Gallery has created a reserve list for people to add their names to in case somebody drops out. It's this initial success and burgeoning interest that Andy hopes will see CRAFTBAR carry on well beyond summer.
"It was really exciting for us to bring in not just visual artists or makers on this. We're made up to have a chef, ecologist, herbalist, puppeteer, activists, and artists all leading fantastic workshops and labs in this series - to really push and share sustainable approaches to creative practice.
"The immediate future for CRAFTBAR will be about putting on great workshops and labs. And then, beyond that, we want to secure funding to continue this programming well into the future alongside our other cultural events, exhibitions and workshops."
There's a lot of fun to be had and practical things to learn at CRAFTBAR. Throw in a fun way to make new friends and it's a great example of a committed community coming together to work on one small idea that everyone can enjoy.
Find out where and when CRAFTBAR is popping up next on the listings leaflet above.
Learn more about CRAFTBAR on the Convenience Gallery website.
Add your name to CRAFTBAR's reserved list.
(Images courtesy of Convenience Gallery and Benjamin Nuttall.)