"Away from summer festivals, we don't get the opportunity to experience live music as a family. Mosh Tots is here to change that," Future Yard's Craig Pennington says.
He's got a point. The only gig we went to with a parent was Alison Moyet in the mid '90s. She was three hours late and left us All Cried Out.
Sunday's Mosh Tots Festival is a larger version of Future Yard's weekly shows for children, aged three to eight. Doors open at 11; the inside and outside of the venue will be packed with music, activities, treats and more that both adults and children will enjoy.
As we mentioned in Issue One's Sound of the Future, their weekly Mosh Tots - Gigs for Kids shows are a brilliant idea and have been a hit with families since they started in 2022.
Craig and his crew are fantastic at finding acts that engage kids and parents alike. Activities and musicians are carefully curated so your offspring don't come home after swearing like, well, The Offspring.
The fun is turned up to 11 for Sunday's festival. Headlining alongside weekly regulars The Mosh Tots Band on 16 July will be Bristol-based Japanese musician and Steve Lamacq favourite ICHI, who went viral in 2019 with his 'Tobogan Gakki' art installation (see it here on Twitter).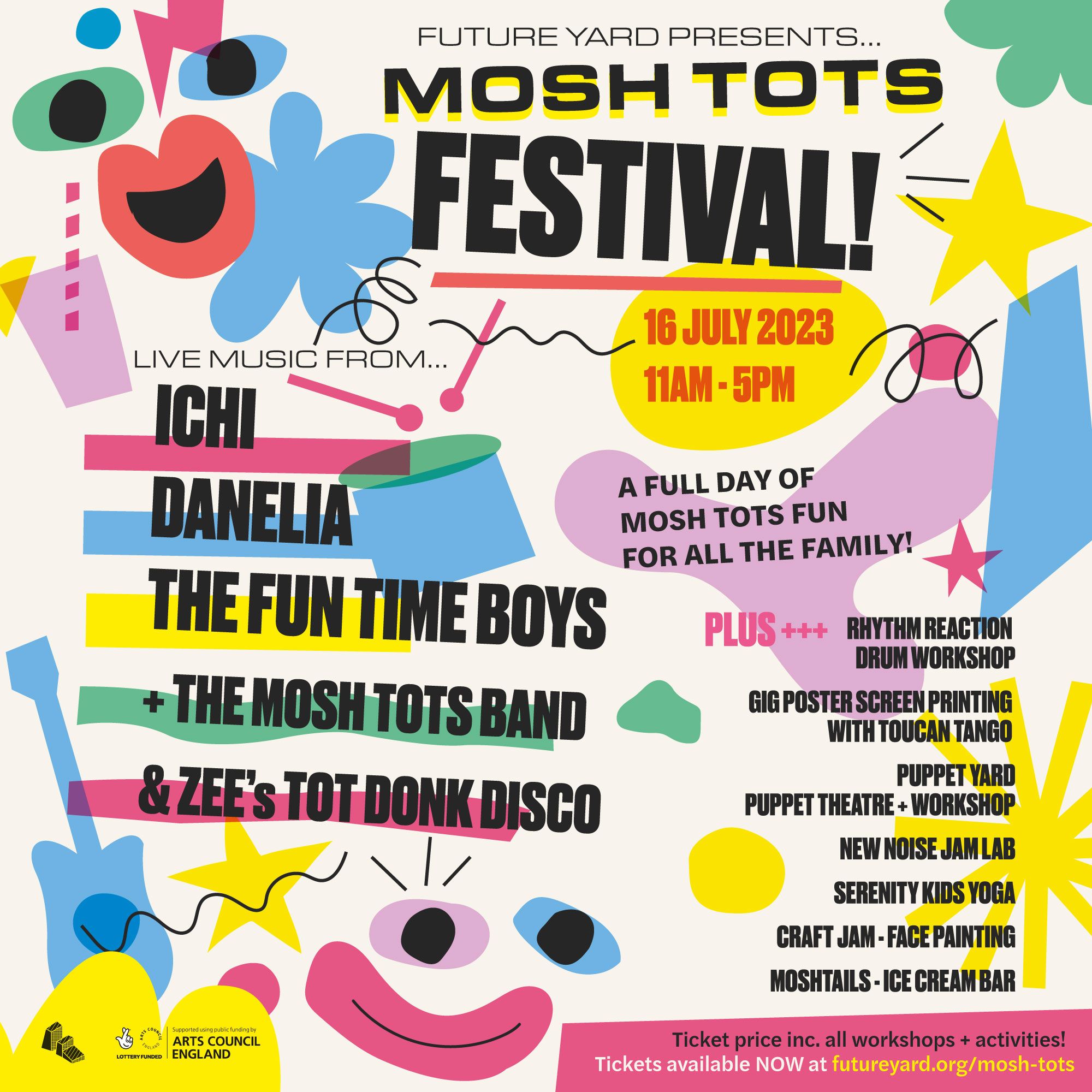 They'll be joined by The Fun Time Boys, Danelia, and Zee's Tot Donk Disco. If you take the little ones and they're still too young to properly appreciate good vibrations though, then there's still plenty for them to do on the day.
Jam Lab instrument lessons, a puppet theatre, Serenity Kids Yoga, face (and tattoo) painting, interactive workshops, Moshtails, an ice cream bar and much more sound good to us. Say hello to our friends Toucan Tango, too, who are hosting gig poster screen printing lessons (which is how they got started).
If you've never been to Mosh Tots then start them off with Sunday's festival, and teach them to go big or go home before they enter the real world.
Mosh Tots Festival
Sunday 16 July, 11 AM – 5 PM
Future Yard, 75 Argyle Street, Birkenhead, CH41 6AB