The Left Bank's hosting the Glam-A-Ram-Bam Marching Band on Saturday to celebrate north Birkenhead and the wider community.
The Procession's peculiar party vibes start by Birkenhead Park's Visitor Centre at 11 AM with weird and wacky (but wonderful) things happening throughout the park until 4 PM.
The tune that everyone will be marching to is a local one at its core. Left Bank musicians, performers, artists and others from the northern-Birkenhead community will be showing their talents throughout the day.
It's all part of the Magic Sheep Procession festivities, with the family-friendly festival also including folk dance workshops, DJs, food, drink and other interactive activities.
If you're wondering why there's a lot of sheep-related things happening around here at the moment (and it's not because we're 'wools', don't listen to that lot in the L postcodes) then it's because the festival is being shepherded by pop-starlets, Stealing Sheep.
If you went to their Sheeptopia Festival at Future Yard on 1 July and wanted more then the park's the place to be on 15 July. Expect Saturday's celebrations to be creative, quirky, and something that the whole family can enjoy.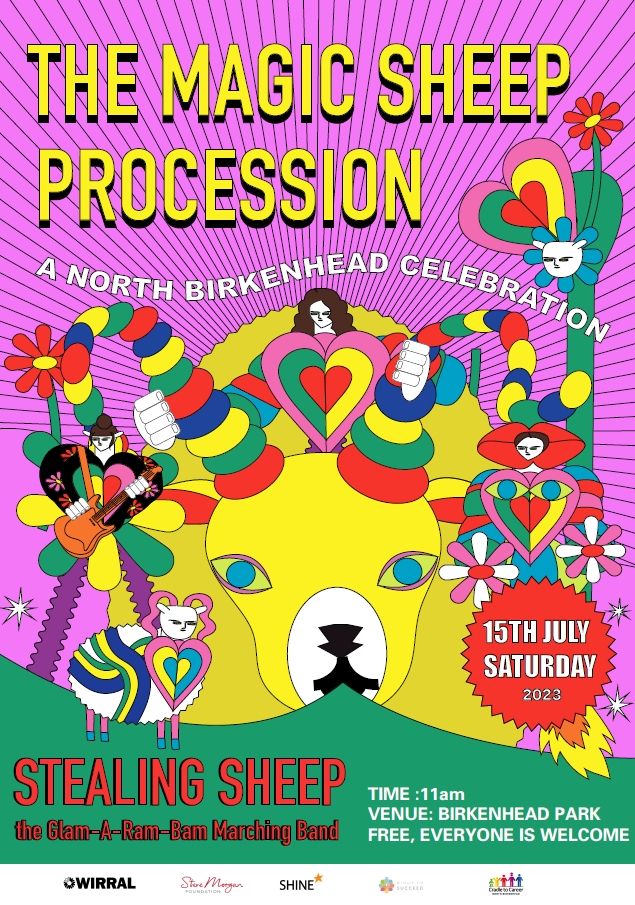 But where do the celebrations for north Birkenhead come into it, and why?
Though The Magic Sheep Procession is curated by Stealing Sheep, the wider festival has been organised by Cradle to Career, which is part of north-west charity, Right to Succeed.
Cradle to Career has spent a lot of time with the youth of north Birkenhead since the organisation's launch in 2021.
Their mission: to tackle inequalities in education, health, income, living standards and other social factors that some communities can struggle with. They're especially vocal that every child can succeed with the right support.
Pop along and say hello to some of the brilliant young creatives from local primary schools and community centres that have benefitted from their programmes and activities, and have a Glam-A-Ram-Bam time.
The Magic Sheep Procession
Free – Saturday 15 July, 11 AM – 4 PM
Birkenhead Park Visitor's Centre, Park Drive Birkenhead, CH41 4HY