Treasure your trabs? Wild about your webs? Then you'll love Start-Yard's Trainer Art and 80s Casual Culture Exhibition.
Launching on the evening of Friday 28 July, the gallery at Birkenhead's brilliant start-up hub is free to visit, with the exhibition running until Thursday 31 August.
It's a shoe-in for sneakerheads and shell-suit savants of all ages and backgrounds, with the exhibition focusing on the cultural impact of Liverpool's Wade Smith at home and further afield.
Pop-up artist and former Wirral Met teacher Nick Beedles – whose brilliant 'Fear of Being Ordinary' show was hosted by Start-Yard in October 2022 – will be displaying his artwork inspired by the fashion of the time.
"I commissioned Nick to paint 12 iconic adidas trainers that were important around that time," Start-Yard's Chris Lee tells us. "It's been 40 years since I joined Wade Smith as a 16-year-old, so I thought I'd mark the occasion with an exhibition."
Alongside Nick's artwork will be a collection of posters and ads from the '80s, Wade Smith photos, artefacts and memorabilia from Adidas, Reebok and Nike. (We've had a sneak-peek of a cool Japanese 'Pepsi x Adidas' crossover, showing just how far trainer culture spread globally at the time.)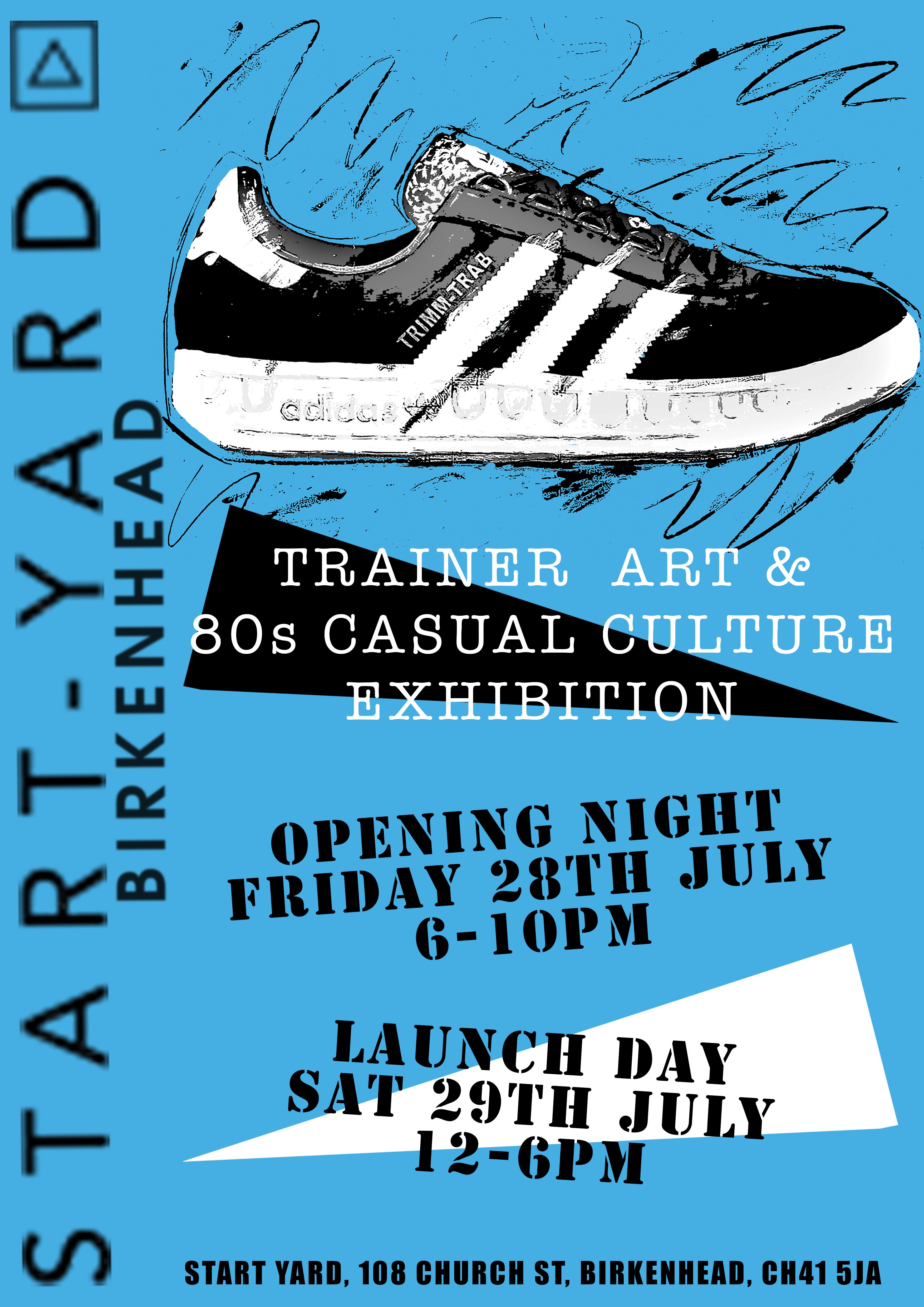 Nick, Chris and others will also be available to tell their first-hand stories and experiences of Wade Smith and Merseyside in the '80s, how scouse fashion and music influenced their lives and why they love trainers and trainer culture so much.
Wade Smith first opened over four decades ago, stocking designer clothes and rare trainers – especially Adidas from across Europe which were always amongst the shop's best-sellers.
Spotting the niche opening in the casual market during the early '80s, Topshop buyer Robert Wade Smith opened his first shop on Slater Street and helped to birth a three-stripe fandom that's still feverish today.
Wade Smith has even had a play written about it from writer Paul Daley. Called 'Wade Smith Make Me Famous', it also centres on the impact of the fashion chain and how it acted as a cultural catalyst for the city.
Not just for Liverpool, but the Left Bank, too. Get yourself down to Start-Yard at the end of the month and hear all about it from the people who were there.
Trainer Art and 80s Casual Culture Exhibition
Start-Yard, 28 July – 31 August
108 Church St, Birkenhead CH41 5JA