"It can be very difficult starting your own business and pitching it to customers so we wanted to make it as simple and as easy as possible to sign up and get started."
Wirral Council Market Manager, Robert Langer, is telling us about the bright glimpses of the future he saw in Liscard on 22 July 2023.
Young traders, makers, bakers, performers and other entrepreneurs aged 16 – 29 were invited to bravely step into the spotlight cast from the Cherry Tree Shopping Centre's glass domed roof, to sell their products, ideas and – most importantly – themselves.
Liscard's first Youth Market was part of the wider national Teenage Market initiative, launched by brothers Tom and Joe Barratt in Stockport in 2012.
Supported by the government's High Streets Task Force, the Teenage Market gives a free platform to young people to showcase their talents. It's since spread across to over 30 locations across the north-west, won backing from Mary Portas and the late Hilary Devey, and Joe's even gone on to become a councillor.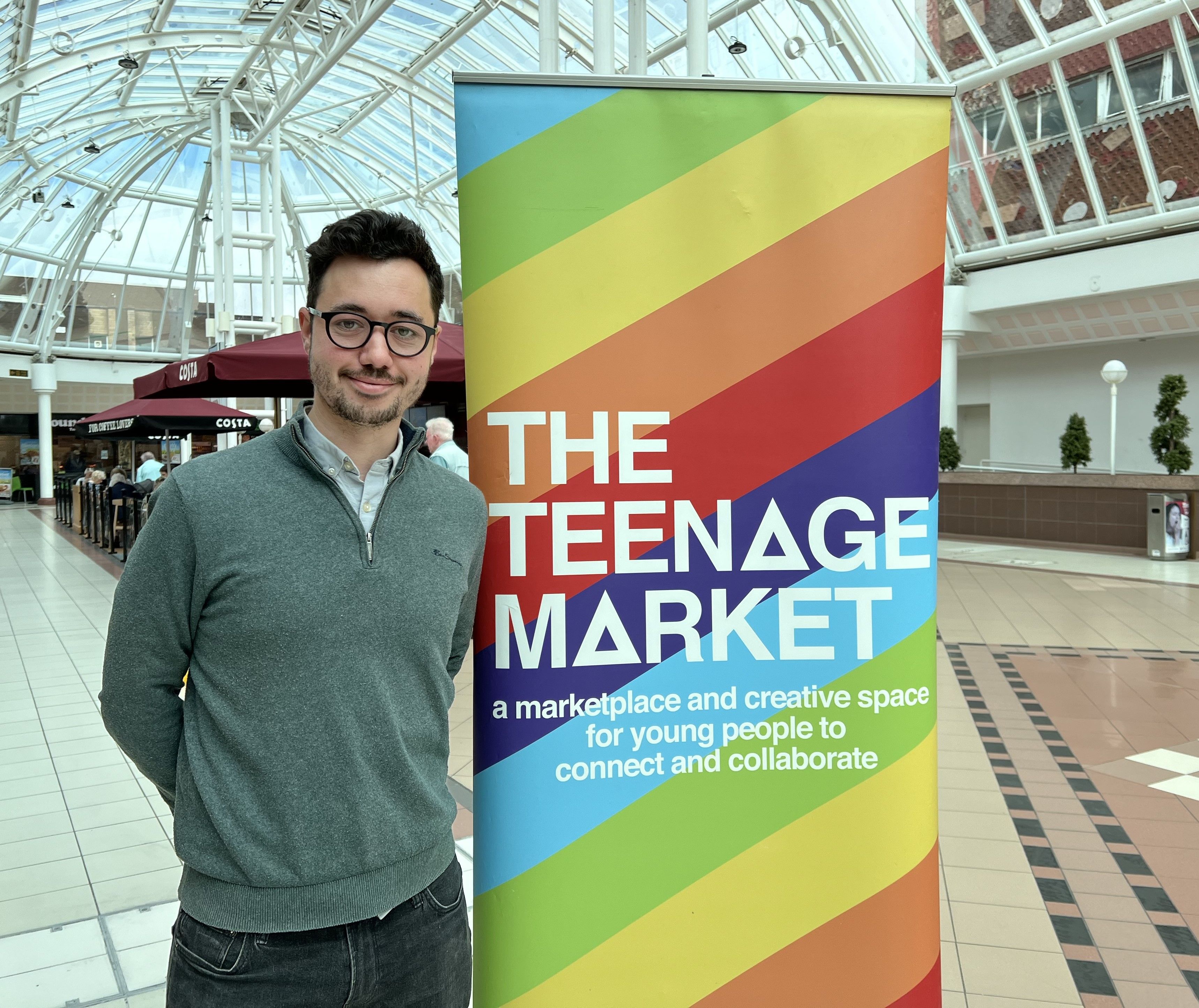 "The Liscard event couldn't have gone any better," Joe (pictured above) tells us. "It just goes to show what can be achieved when an opportunity like this is created on our high streets and shopping centres for the benefit of young people.
"The feedback we received from all the traders was overwhelmingly positive, with many trading in-person for the first time ever. I look forward to working with Wirral Council to find more ways of supporting young entrepreneurs in the future."
"It meant a great deal to the young traders to see the vast support they received on the day from the local residents of Liscard who were incredibly welcoming and turned out to show their support on the day," Robert adds.
"I can see many of the traders going far with their businesses and becoming established retailers."
Find out more about the Teenage Market and its mission on their website
DISTINCT SPORTSWEAR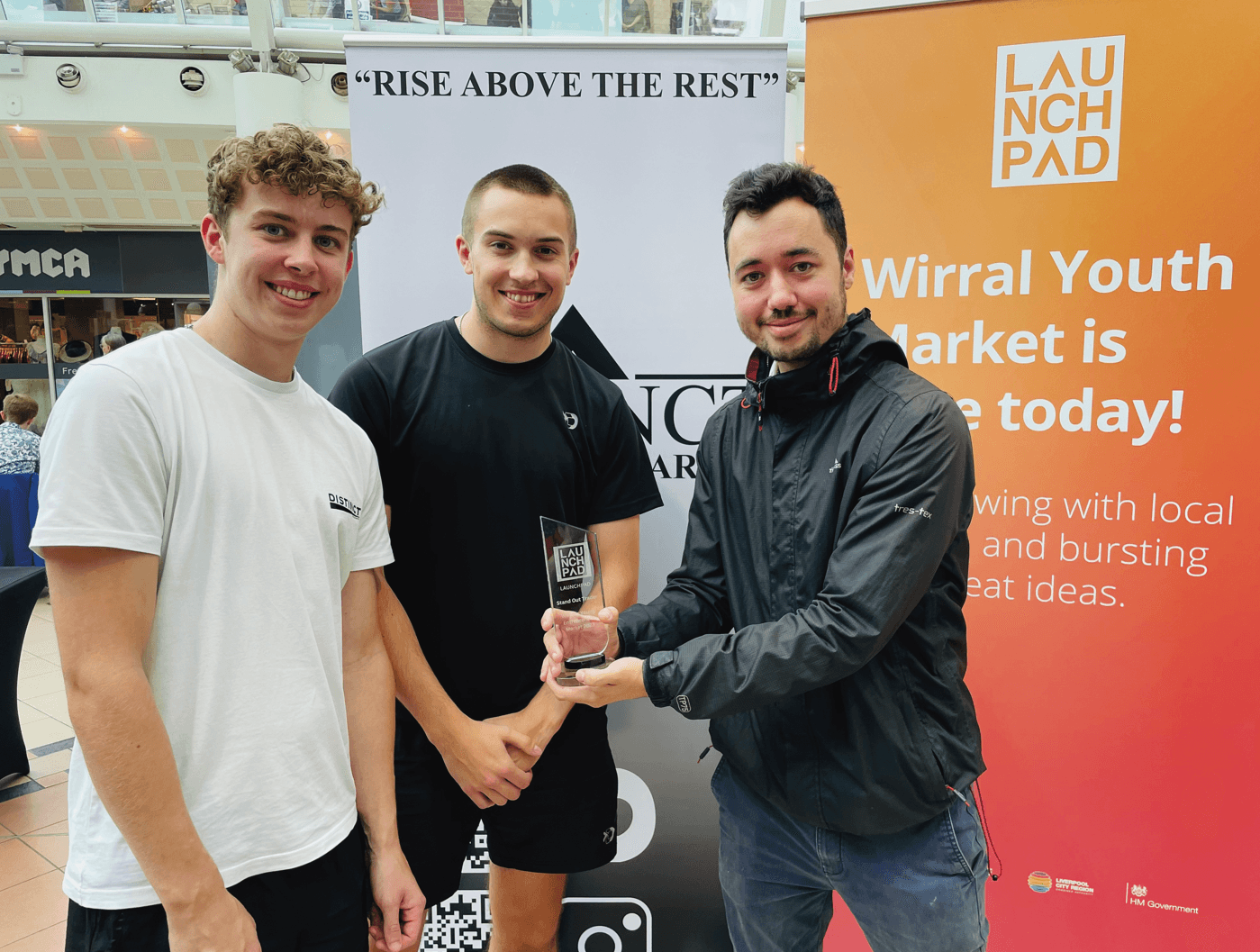 Named 'Stand-out Traders' on the day were Wallasey-born Harrison Hindley and Dom Ward of Distinct Sportswear, a family-orientated athleisure brand looking to do more for communities than sell clothes.
"In the future we would love to have our own store," Harrison tells us.
"In order for us to get there however, we need to keep striving to better our brand and continuously make the effort to connect with our community and get ourselves known."
Harrison's currently studying Pharmacy at LJMU while co-founder Dom is a Sheffield University Biosciences graduate. The Distinct duo's brain power, though, is currently focused on creating clever marketing strategies for their eco-friendly and fashionable athleisure start-up.
Distinct can often be found at pop-ups in PureGym sites across the north-west, for instance, with members able to exercise their right to discounts and unreleased merch drops.
Getting in front of their core audience is helping them win new customers in a tough market. "At our pop-ups we promote our belief in using eco-friendly and recycled materials in our sportswear," Harrison explains.
"We're also firm advocates of promoting positive mental well-being, associating with the likes of 'The Lads Room' who are a Wirral-based men's mental health society."
Harrison and Dom insist that Distinct's more like a family than a business – and if it wasn't for one family member in particular, they may not have even been at the market on the day.
"My mum saw an advert about it on Facebook," Harrison says. "The market was amazing for us and generated one of our best days to date; we sold upwards of 30 items on the day.
"But, more importantly, we really saw how great the Wirral community is. How much people loved what we were doing is a feeling I will never forget."
See Harrison and Dom's designs on the Distinct Sportswear website
ARIADNE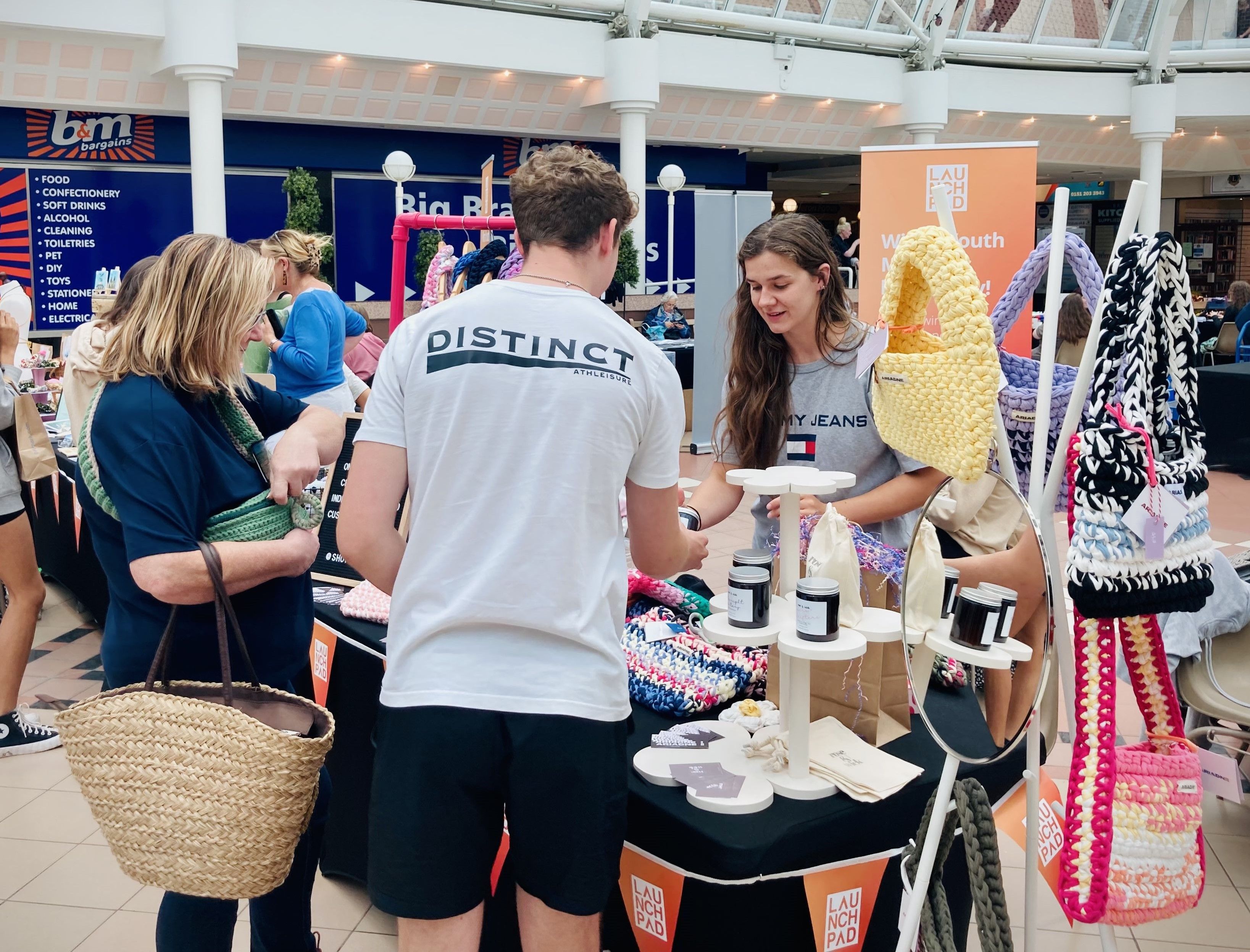 ARIADNE – the middle name of the eco-friendly brand's founder, Rosie Evans – is quickly building a global fanbase thanks to its slow-fashion philosophy.
"I was on holiday in Majorca with my boyfriend and crocheted a little bag for myself from yarn," Rosie (lead image) tells us. "It got a lot of compliments while I was abroad and I thought I'd see how far I could go with it."
ARIADNE's colourful custom bags are made from recycled T-shirt yarn, purchased from factories that would have otherwise sent them to landfill.
And, despite ARIADNE being only nine months old, Rosie's chic crochet creations have been spotted in places as far-flung as Germany and Australia thanks to her marketing efforts online.
"The Teenage Market was an opportunity to build an audience closer to home," she says. "It being a free market and not having to pay for the stall was incredibly beneficial to for the brand. It helped me to get its name out there and the feedback was good."
Birkenhead-born Rosie has always been creative at heart. She waved goodbye to the Left Bank to study law at Sheffield University but found it wasn't for her. A stint in the army followed, she tells us, where she rose to the rank of bombardier before coming home to figure out what to do next.
Now Rosie's a qualified joiner creating high-end kitchens, staircases and more – some of which you may spot in bars and restaurants on your a visit to the Big Smoke.
But Rosie's true love is recycling, upcycling and finding a purpose for discarded materials, with ARIADNE steeped in her carbon-conscious philosophy.
"I'm quite eco-conscious about my packaging too and make sure it's all compostable," Rosie adds. "That way of life is extremely important to me. I also like to grow my own food, so focusing on slow fashion with ARIADNE feels natural to me."
"I'm a free spirit and want to travel, especially to Australia. It's my dream. I want to see how far I can take ARIADNE and where it goes, and hopefully it'll help me get there."
Find out more about Rosie's slow-fashion philosophy on ARIADNE's official TikTok
MYERS MAKES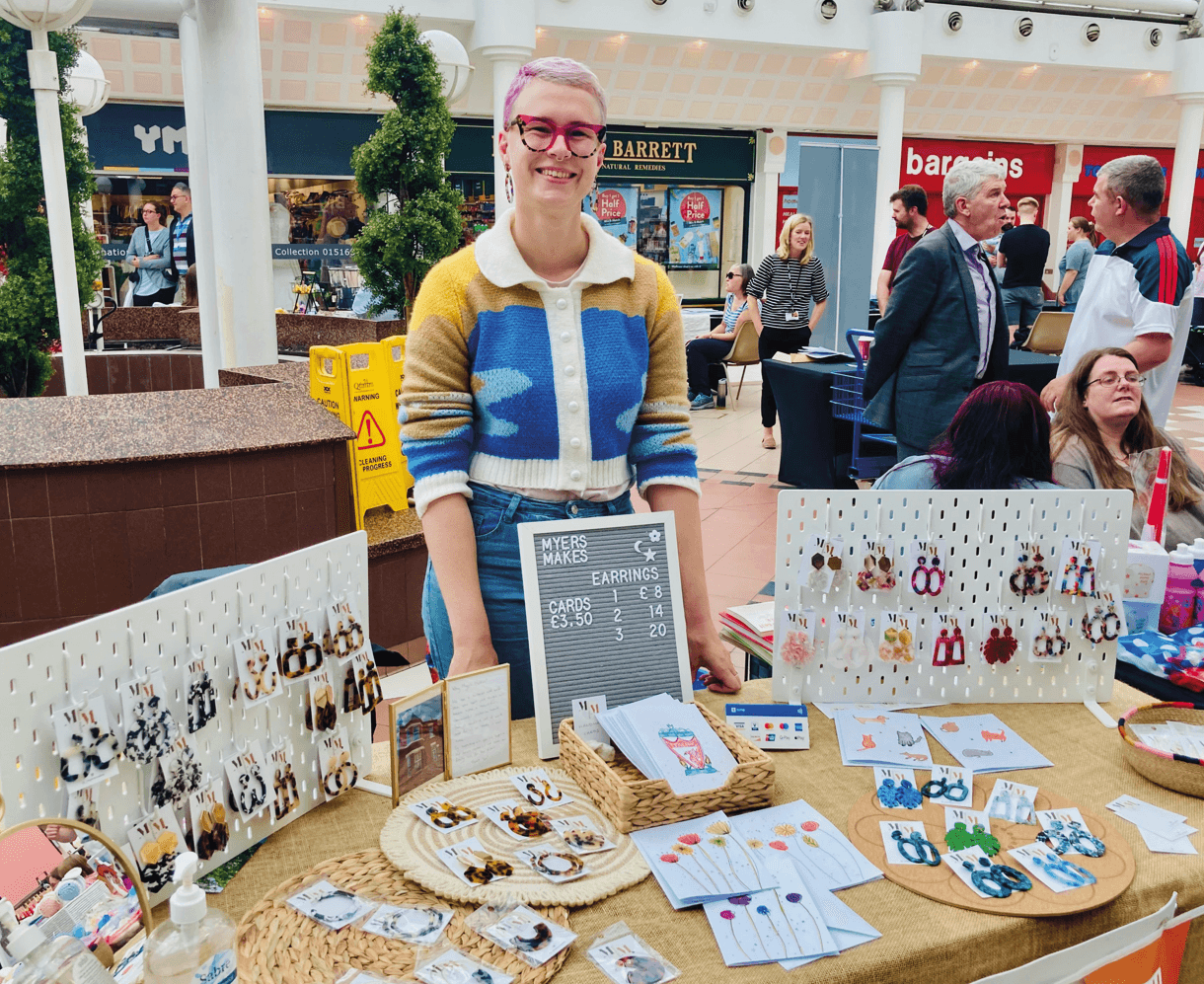 The Teenage Market wasn't Becky and Andy Myers' first time selling their bright and colourful handmade crafts, but it certainly left a big impression on them both.
"It was a brilliant day, and the fact that the market was free made a huge difference to our profit; so much so that it was our most successful and profitable market to date," Becky explains.
Becky secured a place at Manchester Met for fashion buying and merchandising years ago, but instead chose to enter the world of property development finance.
Those latent buying skills wouldn't go away though, and are now being honed at Myers Makes, with the pair purchasing homemade jewellery, hand-painted cards and other popular products to resell under the Myers Makes brand.
Becky handles front of house, but can't do it without the support of loving husband Andy, she tells us. "Andy helps when it comes to running the business side such as looking after finances and ensuring we have everything prepared for markets."
The business is also doing more than satisfying their creative urges, too. Becky and Andy bought a Victorian home in New Brighton in October last year, with funds from their market adventures going towards remodelling it with carbon-friendly renovations.
The future of Myers Makes is currently more markets and more networking, with the pair hoping to increase their stock, start an online store and get Myers Makes into local coffee and gift shops.
"We love having this business as our baby that we have grown from nothing," Becky says.
Find out where Myers Makes will exhibit next on their Instagram page
Image credits: The Teenage Market and Paul Heaps