Coffee shop by day, licensed restaurant by night, Social 114 on Victoria Road in New Brighton is fast becoming one of the town's brightest attractions.
Since opening their doors in the vibrant Victoria Quarter last August, Victoria Thay and fiance Robert Jones have won over locals and day-trippers alike with their day-tonight blend of great coffees, cool tunes and amazing food.
"We will be starting the evenings back up in April now the nights are lighter," Victoria Thay tells us. We can't wait. That means pizza straight from Social 114's very own blisteringly-hot wood-fired oven.
Social 114's flavourful creations are far away from your bog-standard pies with Victoria using produce such as Hampshire Honey, fresh basil and white and black truffle oil and more in her creations.
Victoria's pizzas are also something of a (delicious) motif of what she and husband-to-be Robert want Social 114 to be - something cosy but substantial. Neapolitan in style, the New Brighton venue's light and thin pizzas fit perfectly alongside the menu's daytime brunch-style lite bites.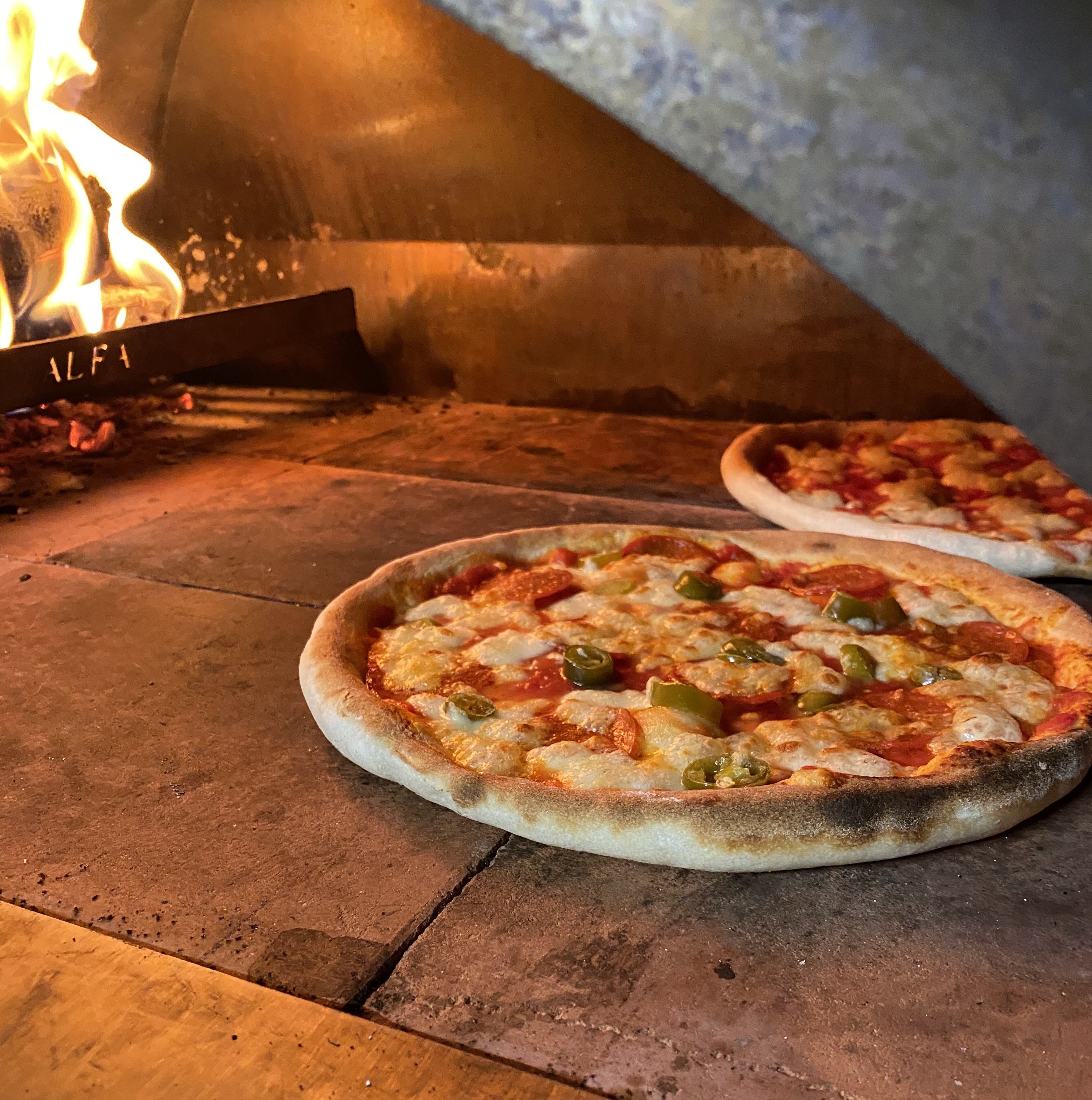 Their daily offerings include scrumptious sourdough specialties alongside cakes, pastries and bold brews. At night, Social 114 also hosts social sessions and community events as well as serving up tasty food.
"Our brunch menu is from 9.30 AM till 3 PM," Victoria says, "and our pizza menu starts from 6 PM. That gives us enough time to shut down the kitchen from the day to transition to the evening menu and light the wood-fired pizza oven."
Not forgetting lighting the candles out the front and changing menus and ambiance too, of course. "We have got a great regular client base now who support us both day and night, but yes, Social 114 has a different relaxed-but-trendy vibe of an evening."
That includes Pizza Parties with a carefully-curated vinyl mix featuring funk and soul classics; a great way to chill with your friends while sharing a slice. Social 114 also works with a local sommelier, too, so you'll always be tying your toppings together with a tasty tipple. 
Victoria wants to give New Brighton the best of everything: "We have some incredible wines, beers and ciders available - not forgetting our great espresso martinis. Our passion follows through to our alcohol menu, where we hope to provide something different to our neighbours."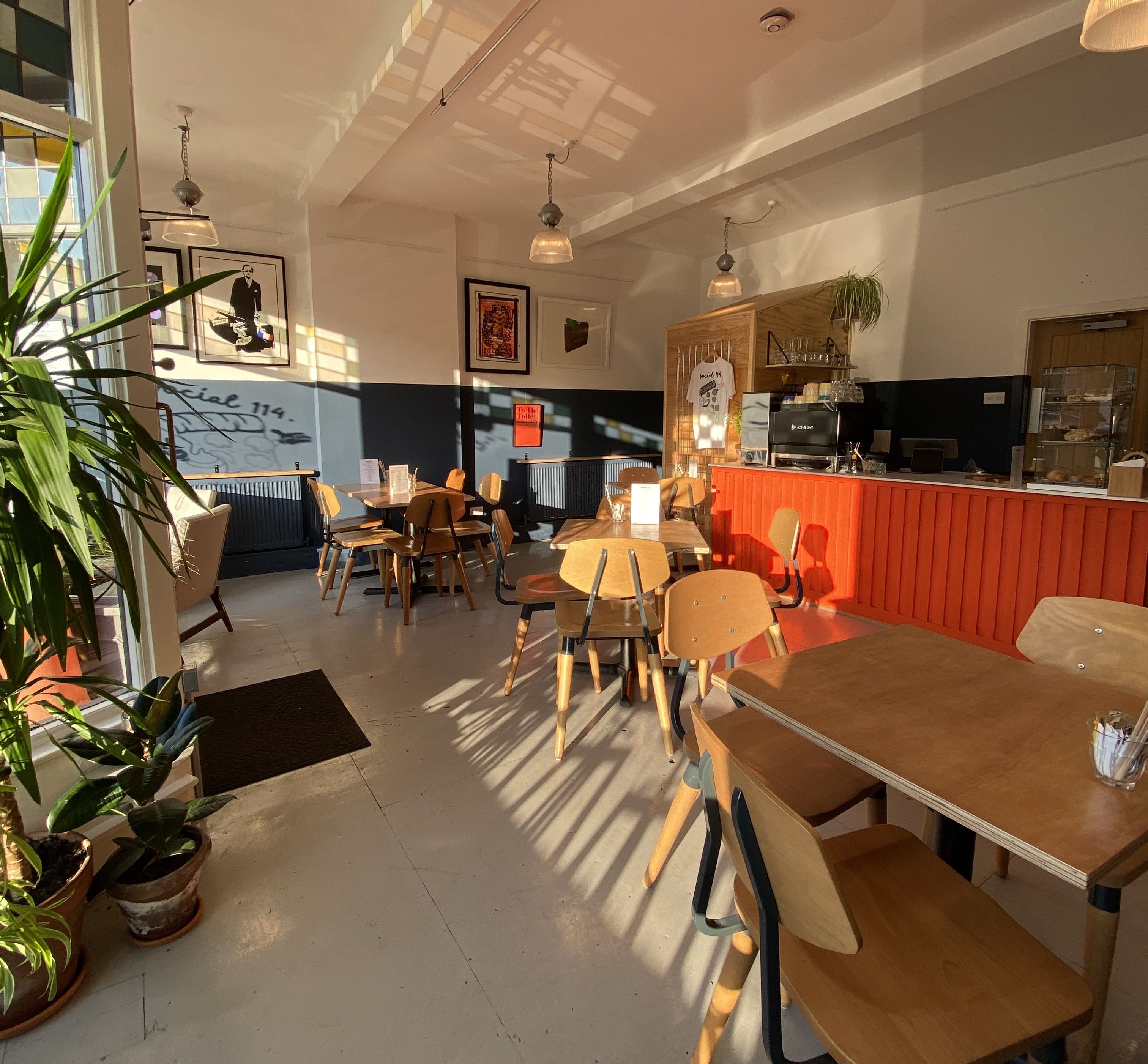 Victoria and Robert opened Social 114 in New Brighton's Victoria Quarter last August. It's been a revelation, and sits right at home amongst Victoria Road's colourful street murals.
They first got together in late 2000 while they were both at university in London. Robert studied Fashion Illustration at the London College of Fashion and Victoria took Jewellery Design at Central Saint Martins.
Robert grew up around New Brighton, and Victoria outlines how much they're putting in to their new home to make Social 114 a success. "We're partners of 14 years and have been engaged for 10. One day we will actually tie the knot, but money has been spent elsewhere for now.
"We're both from creative backgrounds, but the kitchen is my baby. I have a love for food, presentation and a key emphasis on quality.
"Rob is our graphic designer, handles social media, is a coffee connoisseur and visual creative. You'll find him mostly behind the coffee machine ensuring our service and quality is spot-on."
Victoria feels that New Brighton is the right place for their future, too. "The area has changed and made huge leaps. We still feel it's got a way to go, but with more local independent businesses joining us in the Victoria Quarter, the future's looking bright. 
"The street art surrounding us by internationally-acclaimed artists helps bring a new crowd to the area, too."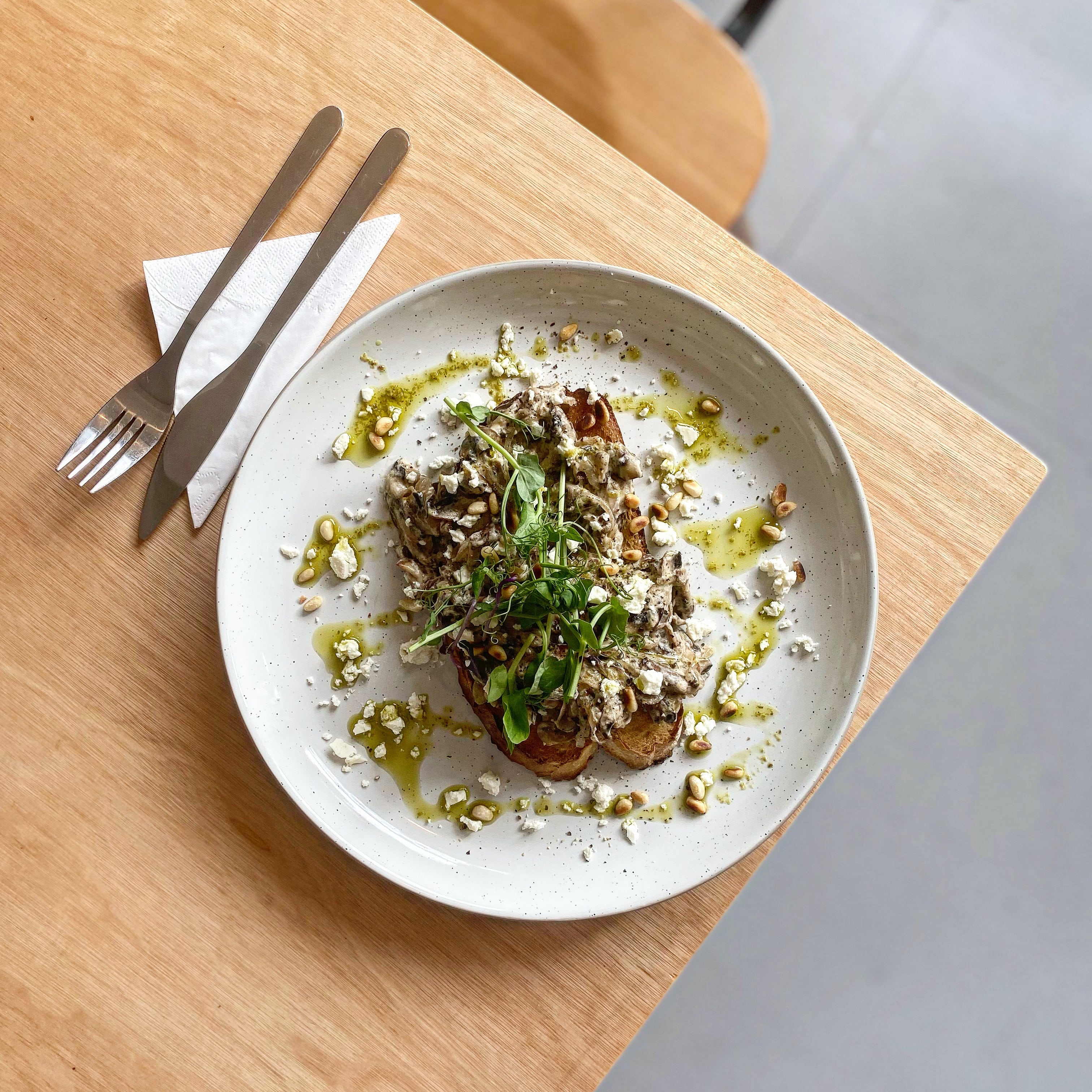 It's that loyal Left Bank crowd that has helped Social 114 come on leaps and bounds in their first months of opening. "The community has been incredibly supportive and an absolute pleasure to work with," Victoria explains.
Social 114's commitment to using regional produce from Left Bank's finest growers, bakers, makers and suppliers has been key to their recent success. "Our sourdough is from a local supplier on the Wirral, and we use three other local independent bakers who all specialise in something different.
"Using local and being local is incredibly important to us. That's why not only is our bread, dough and cakes all from local suppliers, but our salmon, cheese, eggs, coffee beans, milk, butter and much more is all from local companies, too. 
"We are trying to keep that small wheel turning every step of the way."