As the sun comes up in Leasowe Bay, hardy souls gather for a training session with a difference, with kettlebell swinging and wild water swimming.
Baywatch Kettlebells is run by David Hargreaves, under the name Method Monk, without a red swimsuit in sight.
"It's not a typical exercise class, and it attracts people who are on a personal journey who crave some sort of change in their lives," says David.
"Whether that's changing their body type, getting up earlier or facing fears. The weekday sessions begin at 6am, so it takes a level of commitment just to get to the beach.
"The sessions are dynamic and invigorating. I offer expert guidance in kettlebell training on the beautiful beaches of Leasowe Bay.
"When the tide is in I encourage clients to have a dip right after finishing, taking inspiration from Wim Hoff and cold water therapy."
The idea for Baywatch Kettlebells – named after the beautiful Leasowe Bay, with a nod to the Hoff's classic TV show – came from David's own training at the beach.
"I'd do my kettlebells, practising some breathing techniques and have a swim in the sea, between 5 and 6am.
"During lockdown I wanted to get my hands on some extra kettlebells, could I find a single kettlebell for sale? No! Everyone had the same idea, train at home with minimal equipment.
"But, just like me in the early days, a lot of people buy a kettlebell, but neglect to learn the true technique. The desire to teach others how to maximize their equipment and prevent it from becoming a doorstop was born."
David gained his coaching qualification from Eric Leja, a kettlebell expert in Texas, and started his sessions this spring.
"Potential clients get in touch all the time," says David. "I have eight at the moment, working in small groups of three or four.
"The feedback has been overwhelmingly positive. One client had a fear of the sea and cold water. He decided to take the plunge after a workout that day and something clicked for him in the moment, where he was able to face his fears in his personal life.
"This was truly life changing."
Find out more on the Baywetch Kettlebells website
Find Method Monk on Instagram and on Facebook
Baby Boomers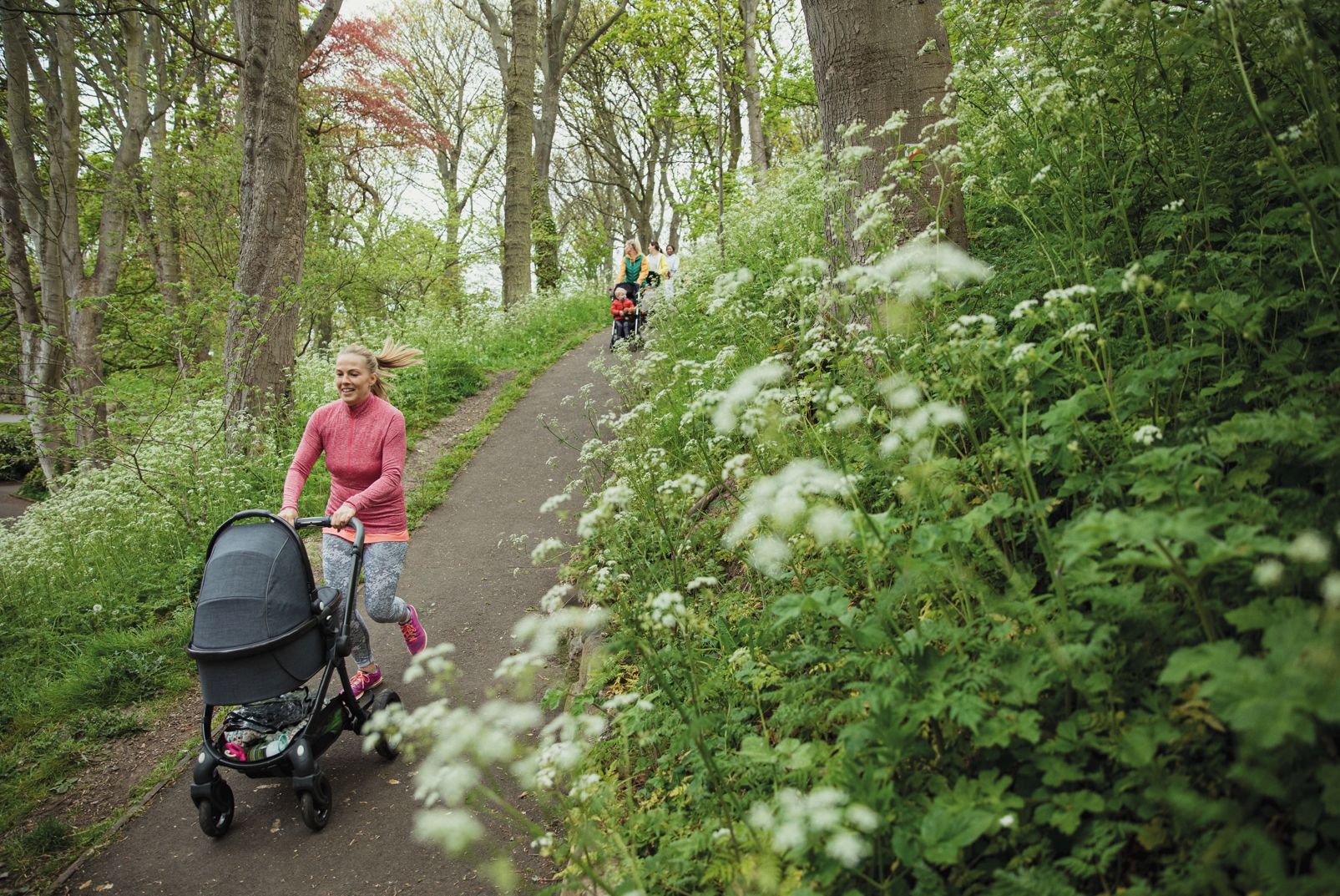 At a time when many mums find it hard to get out and exercise, Movement and Bloom runs Buggy Babies, supportive, fun classes all along the Left Bank.
"Buggy Babies is a glorious outdoor post-natal class, designed specifically for mum and baby," says Natalie Johnson, who runs Movement and Bloom.
As a mum and grandmother herself, with a background in health and wellbeing for the NHS, she's well equipped to help mums and babies get out exercising in fresh air.
While any exertion can seem daunting after pregnancy and childbirth, the classes channel the same strength and determination it takes to push out a baby into the world and making new friends.
"Post-natal exercise classes may seem like the last thing you want to do after pregnancy, childbirth and taking care of a new-born," she says.
These classes, though, are not your average classes. "You don't have to worry about childcare because we encourage you to bring your baby along.
"The whole session is as much a social activity as it is a fitness class."
See more info on the Movement & Bloom website
Derby Days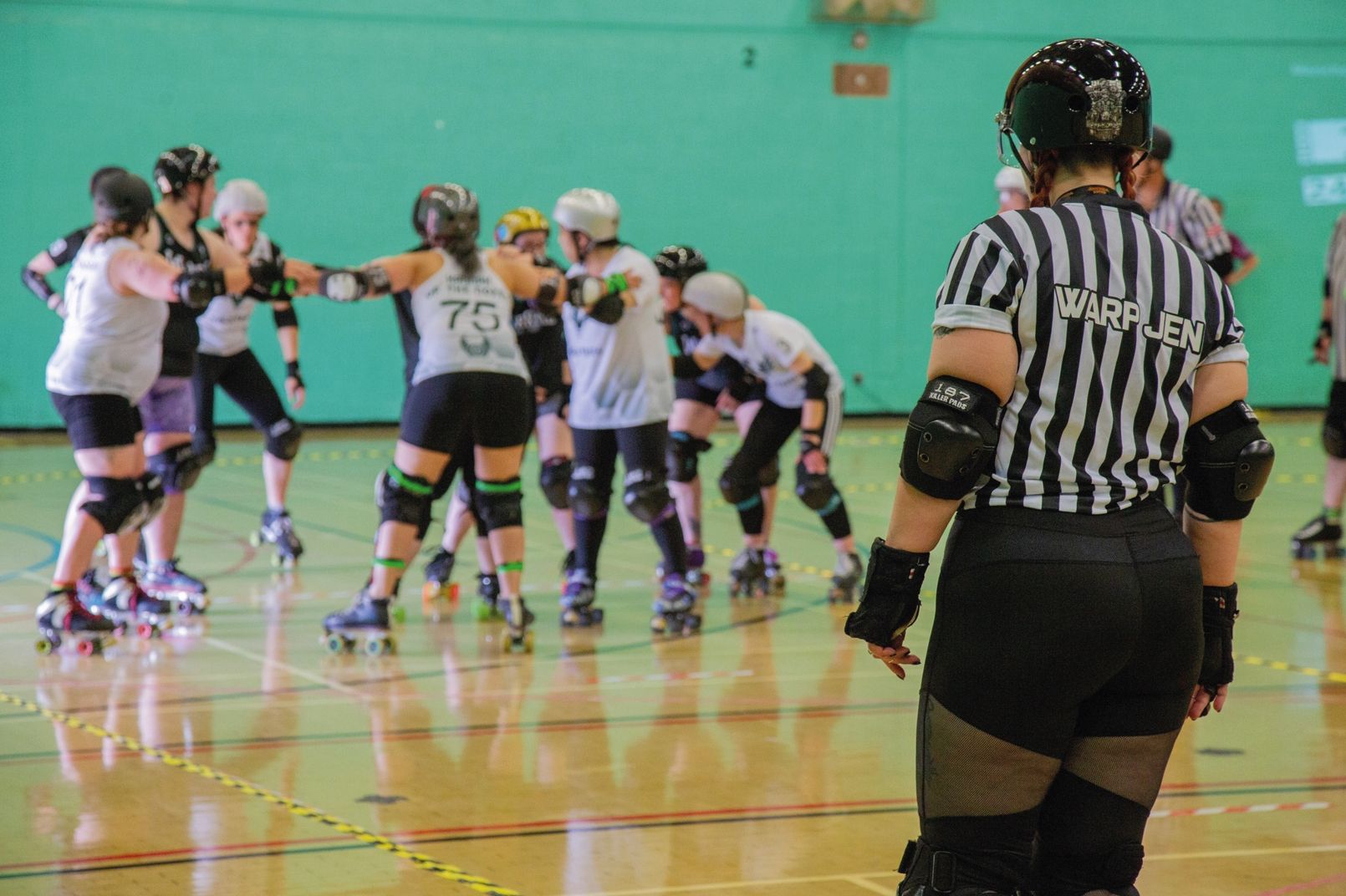 As inclusive and friendly sports go, roller derby is fast, aggressive and action packed.
"It's strange, because the players are the loveliest, friendliest people, but once we get started it is pretty full on," laughs Sarah Williams, one of the committee members, and a key blocker in the Wirral Roller Derby team.
"I had never done anything like it before, and I saw a cool-looking girl heading into Leasowe Leisure Centre and went in to see what they were doing. I was hooked.
"It is such a fun sport, and while you get a few bumps and bruises, it is incredibly friendly and inclusive. It's one of the few sports where anyone is welcome to take part, whatever their sexuality or gender identity."
While there's an art to whizzing round on roller skates, learning how to pick up speed and how to fall over without doing too much damage, it's something the team are happy to teach people, and there are regular call-outs for beginners to join, at Leasowe Leisure Centre.
"We encourage anyone to start, even total beginners, and we can teach them to skate," says Sarah. "Some come, having skated as children, and some never at all. It's incredible how quickly they pick it up.
"We are also aware that the equipment can be quite expensive, so we lend it out to begin with so people can try it out and see if they like it before committing to buying it all."
The team competes on a busy inter-city circuit, with games against teams in Nottingham, Manchester and closer to home, in Liverpool.
"For those who don't want to skate, we are always looking for our cheer squad to support and encourage us. One of the best things about the team is how friendly and encouraging everyone is.
"I've met some brilliant friends. I'd recommend it to anyone."
Learn more about Wirral Roller Derby on Facebook and Instagram
Lead image credit: Jane MacNeil