Last weekend saw the launch of the first Wirral MakeFest.
We hope there are many more to come. We visited both MakeFest sites at the Williamson Art Gallery and Birkenhead Central Library on Saturday 3 June and had a fantastic time meeting and learning from makers from the Left Bank and beyond.
Wirral MakeFest is led by the talented trio of Wirral Unplugged's Dr. Diana Powell, award-winning eco artist Alison Bailey Smith, and Wirral Code Club and Wwham's John Howard. You can read more about why they wanted to launch a Wirral version of MakeFest here.
Alison, Diana and John have been giving up their time for years to help introduce people to new mediums and sustainable methods of making, and Saturday's event was no different.
Their vision for MakeFest was also brought to life thanks to MakeFest's many volunteers and makers, who worked incredibly hard on what was arguably the hottest day of the year so far.
We found Alison at the Williamson while Diana and John could be found (along with the bouncing MakeFest planetarium) at the library. Everywhere we looked, children and adults alike were busy creating something with fabrics, wood, metal and code; all while making new friends, too.
Karen at Re-Jiggery told us about her furniture upscaling business and showed us some of the eco-friendly materials she uses in her processes, including bamboo and camel's hair, while at another table we got a demonstration in AI artistry from developer Matthew of Nix.
We met with Olive Can Fly, Lime Street Concrete, Little Vintage Photography and others at the Williamson and had a chat with Softly Spoken Calligraphy's Ola, who told us why she felt volunteering at MakeFest was so important.
"I decided to get involved in MakeFest because it's such a great initiative," Ola told us. "Everyone's been working so hard to bring this creative event to life, it's such a pleasure to volunteer here."
Her partner, web developer Brandon, agreed: "It's been busy. It's fun but hectic, as all good festivals should be. It's great too because Alison is a friend of mine and she's always busy, so it's nice to help her out."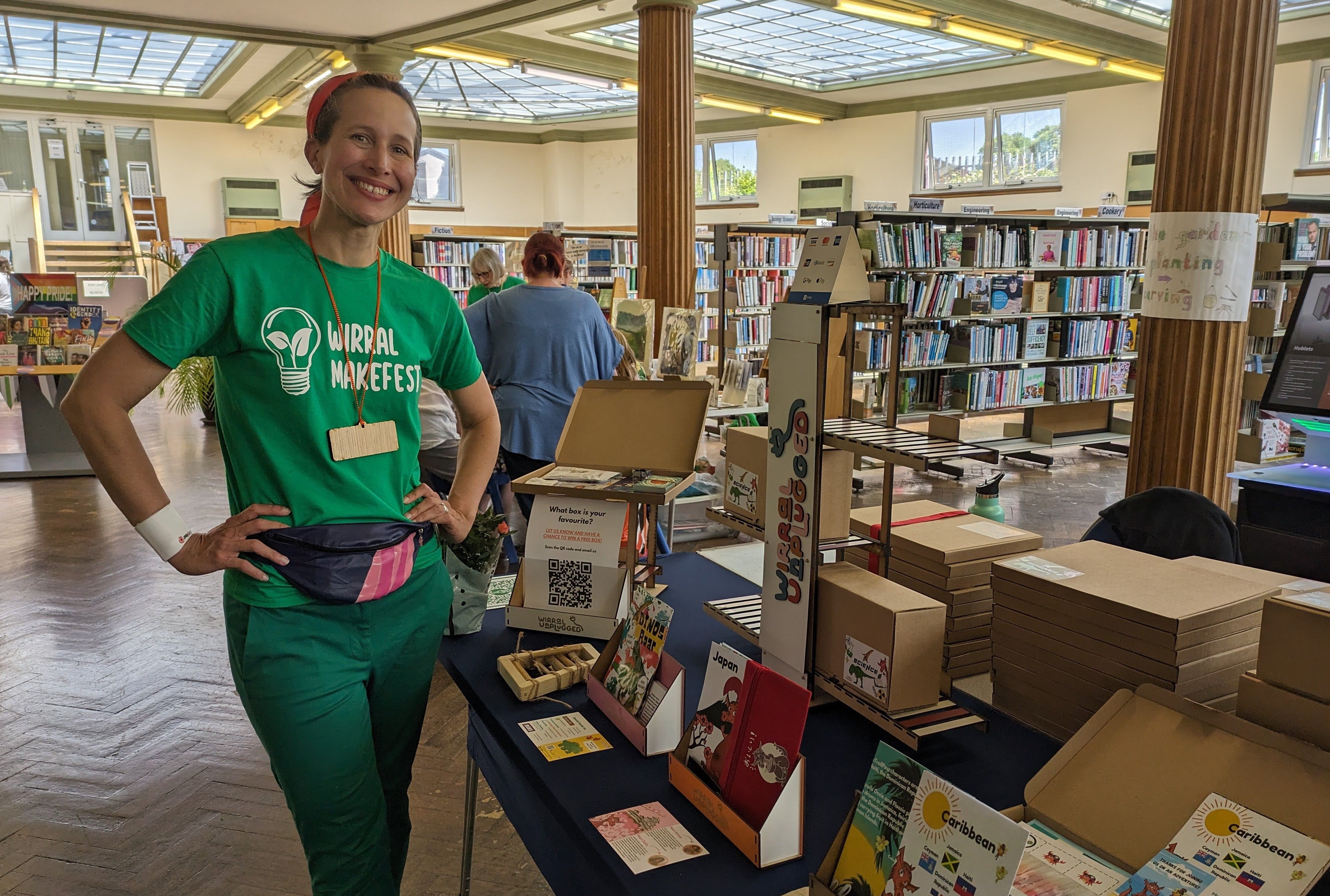 Over at Birkenhead Central Library we immediately bumped into the energetic Dr. Diana Powell who showed us some cool kit at the Wirral Unplugged table.
That included their Dinos Roar Box – a fascinating pack that explains more about what dinosaurs actually sounded like and gives owners the chance to make their own dinosaur-bone xylophone. (Their bones were hollow, you know...)
Close by Diana was John, Wirral Code Club and a lot of bananas. Wired up to the computers, the bananas took on the role of keyboards with visitors able to type messages with them on-screen. Visitors were also sat at the library's computers, taking part in other coding demonstrations and learning from the team.
Out back, woodcarver Jo Burton gave us a practical lesson in shaping wood with her set of tools, while Oscar and Naomi at Cool Places of Worship and the Wirral Environmental Network discussed with us about what more can be done on the Left Bank to battle climate change.
MakeFest was also a boon for the library according to Strategic Librarian Kirsten Hume: "Libraries are a perfect fit for the MakeFest movement, with libraries being recognised as important digital enabler organisations and safe spaces for communities and individuals.
"Wirral MakeFest also matches the public library ethos of a free event for both the public and exhibitors, open to all and inclusive."
Dr. Diana Powell couldn't be happier with how the inaugural MakeFest went. "I am thrilled that Wirral MakeFest's vibe was extremely welcoming, inclusive and supportive, enabling everyone to try something new and be inspired," she told us.
Alison Bailey Smith was in agreement and adds how she, Diana and John are already looking forward to next year's event.
"Gathering new contacts and our familiar collaborators across different sectors from science, technology, engineering, arts and maths was a mammoth task but we achieved something very special," she says.
"We hope to secure funding to be able to replicate and grow for Wirral becoming LCR Borough of Culture next year."
Us too. Here's to Wirral MakeFest 2024.
Find out more about Wirral MakeFest and how you can help potential future events on their website.
Lead image courtesy of MakeFest and Ron Thomas